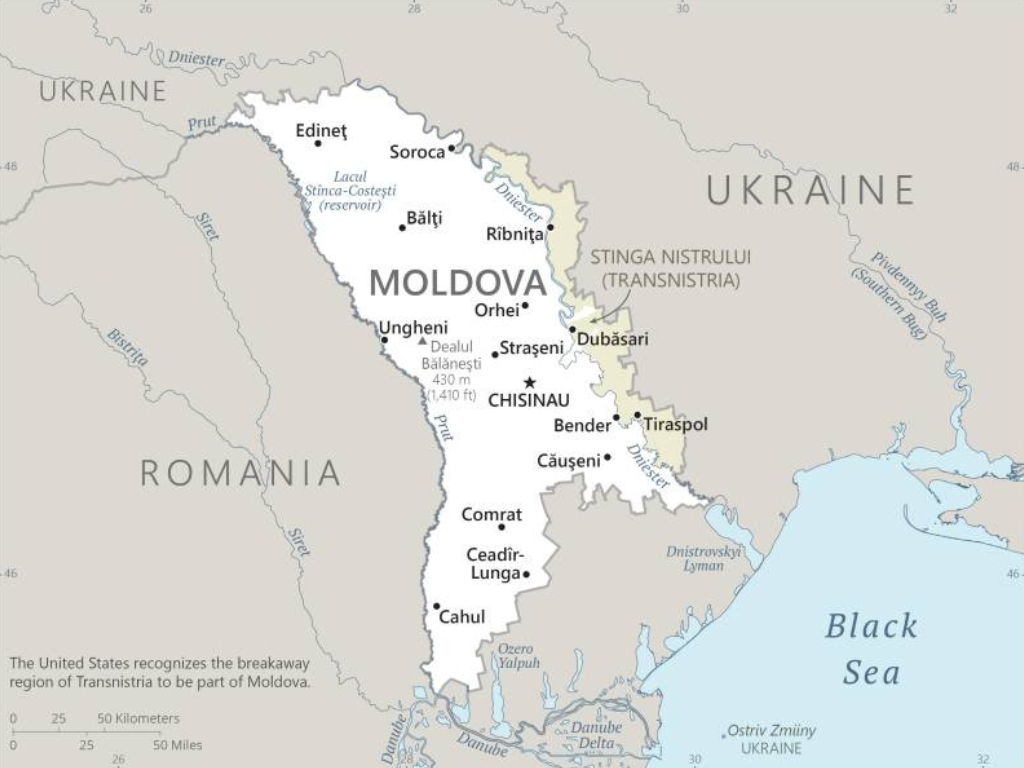 The Moldova/Transnistria Situation Reports (SitReps) are a response to the intelligence obtained by Ukraine and Moldova indicating that Russia plans to overthrow the democratically elected government in Chișinău and maintain the threat of Transnistria high for Ukraine. Drawing from open-source information (OSINF), the newsletter will provide periodic updates on security-relevant developments and analysis. See previous sitreps under the dedicated Moldova & Transnistria section on T-Intelligence and Linkedin, and our threatcast on a possible Russian operation to link up with Transnistria. 
---
KEY JUDGEMENTS
Chișinău expressed hope that Moldova could join the European Union (EU) without the self-proclaimed Pridnestrovian Moldovan Republic (PMR, or Transnistria). This statement reflects Moldova's determination to pursue EU membership despite the major obstacle presented by the Russian-backed breakaway region.

Moldova continued to seek Euro-Atlantic support for its defense procurement, readiness enhancement, and capacity building. Chișinău and Paris signed a letter of intent to strengthen Moldova's air defense capabilities. The Moldovan National Army participated in several military exercises with the U.S. and Romania, focusing on homeland defense and drone operations.

Chișinău re-extended the state of emergency due to Russia's continued invasion of Ukraine and ongoing tensions with Transnistria. In addition, Tiraspol launched unilateral military patrols of a critical railway section and continued to operate unauthorized checkpoints in the Dniester Valley Security Zone.

Moldova holds its ground in the ongoing "debt war" with Gazprom. In the meanwhile, Chișinău managed to secure further EU funds and Turkish assistance for boosting energy security.

Moldova attracted new foreign investments despite the combined Transnistrian and Russian threat. Medal Holding GmbH and Philip Morris International have announced new economic ventures in Moldova. Romania expressed interest in purchasing Moldova's Danube port of Giurgiulești from the European Bank for Reconstruction and Development (EBRD).
SITREP: 1-30 SEPTEMBER 2023
EUROPEAN INTEGRATION AND REFORM
Minister of Foreign Affairs and European Integration, Nicu Popescu, said Moldova could join the European Union without Transnistria, on 19 September 2023. "The territory that is controlled by our government in Chișinău can join the EU irrespective of what happens to the east of us, and that includes the situation around Transnistria," he said in the interview for Politico. "No one wants divided countries inside the EU, but keeping countries at the mercy of geopolitical manipulation and separatist conflicts would be even worse for the continent, for the EU, and for us."
Moldovan President Maia Sandu welcomed NATO Deputy Secretary General Mircea Geoana in Chișinău to discuss ongoing cooperation programs, regional security, and ways to enhance Moldova's resilience to present challenges, on 14 September. The discussions emphasized the importance of NATO cooperation in modernizing the security and defense sectors to address hybrid dangers, misinformation, cyber risks, and strengthen Moldova's capacity to respond effectively.
The U.S. Government and the United Nations Development Programme (UNDP) are collaborating to support the Ministry of Justice in strengthening its institutional and operational capacities for justice sector reform. This initiative, named "Strengthening the Capacities of the Ministry of Justice of Moldova to Deliver on the Justice Reform Mandate," is funded with a budget of $820,000 from the U.S. Government. It aims to promote justice sector reform in Moldova until February 2025.
DEFENSE: PROCURMENT AND CAPACITY BUILDING
Moldovan National Army (MNA) soldiers participate in SARMIS 23 exercise in Brasov, Romania. They join over 1,700 Romanian soldiers, and visiting forces from the U.S., UK, and France. Under the command of the Romanian 2nd Mountain Brigade Sarmizegetusa, SARMIS 23 enhances tactical inter-operability in mountain warfare. SARMIS 23 ends on 6 October 2023. The MNA's "Moldova" Motorized Rifle Brigade participated in the "Zimbru 2023" joint drill in Smardan training range, Romania, between 16-30 September.
Moldovan Defense Minister Anatolie Nosatîi and French Minister of Armed Force Sebastien Lecornu signed a letter of intent (LOI) to strengthen Moldova's air defense capabilities and help in modernizing the Moldovan National Army, on 25 September 2023. During his visit to Chișinău, Lecornu also met with President Sandu and PM Recean.
Note that one of Moldova's most recent and important military acquisitions has been the Ground Master 200 (GM 200) air defense radar from Thales (France). Lecornu said they will conduct an audit of Moldova's air defense inventory and devise means to improve them. France has also provided funds to Moldova's defense modernization through the NATO Defense and Related Security Capacity Building (DCB) Initiative and EU European Peace Facility.
Moldovan servicemen attended Sage Eagle 2023 Exercise in the United States, which took place in Texas between 8-24 September 2023. Fulger Special Purpose Battalion soldiers and US Army Special Forces servicemen enhanced interoperability, synchronized operational procedures, and developed capabilities for executing missions. Notable activities included special research sessions, combat firing training using Javelin simulators, providing medical first aid in complex environments, combat firing from 60 mm grenade launchers, parachute jumps, and various other mission-related activities.
Moldova hosted "Rapid Trident" exercise with U.S. and Romanian soldiers between 10-22 September 2023. Designed to enhance interoperability and readiness, Rapid Trident brought together 80 U.S. forces from the 1st Infantry Brigade Combat Team, 101st Airborne Division assigned to the 10th Mountain Division, the 4th Security Force Assistance Brigade, the North Carolina National Guard, 200 Moldovan forces, and 25 Romanian soldiers.
Exercise activities include interoperability training focused on peacekeeping, medical treatment, evacuation, and homeland and territorial defense operations. Rapid Trident also saw the use of unmanned aerial systems (UAS) in Moldova.
TRANSNISTRIA & RUSSIA: TENSIONS PERSIST
The Moldovan government was informed by the PMR that Transnistrian soldiers will start patrolling the railway section between Pervomaisk and Hagimus, on 25 September. The Transnistrian patrols began immediately on the announcement date. Tiraspol claimed the unilateral patrol is a security measure to protect the railway infrastructure.
The Moldovan delegation to the Joint Control Commission condemns these actions and asked Tiraspol to cease the patrols. The Transnistrian patrols, which are ongoing at the time of the writing of this report (30 September), violate the peacekeeping agreement.
Chișinău has also noted that Transnistria increased its military power.
Reports emerged of aerial objects, allegedly parts of an S-300 missile, found in Chiţcani, Transnistria, on 24 September. The explosion occurred in the air, and while there were no damage or casualties reported, the incident raised questions about its origin and trajectory. The Moldovan Ministry of Defense, in response, sent military observers from the Joint Peacekeeping Force (JPF) to investigate further. The situation is being closely monitored, and more information is awaited to confirm the object's source and any potential implications.
If indeed an S-300, the surface-to-air missile may have been Ukrainian, launched to intercept Russia's continuous drone and missile strikes on the Odesa region. Consistent with the claim that it exploded in midair, the S-300 may have self-detonated after missing an interception.
On 21 September, Moldova extended its state of emergency by an additional 60 days. The extension goes into effect on 2 October 2023. This decision was made based on persistent and real security risks, including potential threats to energy infrastructure and cyber and information security.
The extension allows authorities to take preventive measures to strengthen energy security and protect critical infrastructure. The state of emergency was originally established on 24 February 24 2022, following Russia's invasion of Ukraine.
On 7 September, the Joint Control Commission (JCC) convened to hear reports from the Joint Military Command on the security situation in the Security Zone during August. Representatives from the OSCE Mission in Moldova provided insights based on their monitoring activities. The Moldovan Delegation emphasized the need to remove illegal posts set up by Transnistrian authorities in the area, emphasizing the importance of free movement in the Dnister Valley Security Zone.
ENERGY SECURITY
Turkey will supply Moldova with 2 million cubic meters of natural gas per day under a contract signed between BOTAŞ and East Gas Energy Trading Company, as announced on 28 September. East Gas Energy Trading is actively engaged in the Moldovan market, while BOTAŞ aims to position Turkey as a natural gas trading hub. Gas deliveries through Moldova will begin on 2 October 2023.
Moldova will receive a 105 million euro grant from the European Commission for energy security, as announced on 26 September. The Government in Chișinău has approved negotiations and the signing of Amendment No. 2 to the Financing Agreement between Moldova and the European Commission.
This agreement brings the total support budget for the program up to 240 million euros. These funds will be disbursed in two additional installments before the end of the year.
The Moldovan Ministry of Finance aims to use this support to mitigate the socioeconomic impact of energy price increases, strengthen the state's ability to provide services for vulnerable groups, and enhance energy security in the Republic of Moldova.
Gazprom's $709 million debt claim against Moldovagaz proves fraudulent, according to an independent audit commissioned by Moldova. Conducted by the UK's Wikbord Rein and Norway's Forensic Risk Alliance, the audit shows discrepancies in the claimed $709 million debt by Gazprom:
Nearly $276 million of the alleged debt (1991-2002) lacks supporting documentation, which Gazprom failed to provide to the auditors.

High Penalties: Nearly half of the debt comprises steep late fees at around 0.35% daily in USD.

Unenforceable Claims: $400 million of the debt is unenforceable under both Moldova and Russian law due to 3-year expiry limits on arbitration decisions from 2008-2020.

Unapproved Spending: Moldovagaz spent $135 million on unapproved projects, including new headquarters and network losses.

Counterclaims: Gazprom also owes $160 million in gas transit fees from 2007 due to fee-splitting with Tiraspoltransgaz.

Past Issues: In the 1990s, transmission networks were undervalued and transferred to Gazsnabtranzit in questionable debt settlements.
Moldova proposes that Moldovagaz pay $8.6 million in confirmed debt to Gazprom. Read more about this audit in a public report on the Moldovan Ministry of Energy's website.
ECONOMIC RESILIENCE AND INVESTMENTS
Romania is interested in purchasing Moldova's Danube port of Giurgiulești, said Romanian Prime Minister Mircea Ciolacu on 28 September 2023. This strategic move is part of Romania's broader logistics plan, which includes building a new road and rail bridge over the Danube in Giurgiu. The port is majority-owned by the European Bank for Reconstruction and Development (EBRD). This means that discussions do not need to occur with the Moldovan authorities and only with the EBRD, according to PM Ciolacu. The Romanian Ministry of Transportation has already contacted the EBRD for this transaction and is awaiting a reply.
Note that EBRD played a key role in helping Moldova establish and develop the Giurgiulești port. In 2021, EBRD was left the sole proprietor of the port as interventional investors left. EBRD has been looking for new shareholders to bolster the port further ever since.
Medal Holding GmbH, a German company, will launch a $160 million investment project in the Balti Free Economic Zone (Balti FEZ) to establish a glass foil factory. Balti FEZ and Medal Holding inked a cooperation agreement during the Romanian-German business conference in Berlin on 28 September.
Previously, on 18 September, the Balti mayor, Nicolai Grigorishin, received a delegation of inventors for the forthcoming glass factory. He named Medal Glass DRL as the initiator of the project, and EuroGlass Industries LLP from Kazakhstan as the main investor. They will cooperate with Medal Holding Gmbh and German technology company HORN.
The project aims to boost Moldova's industry, enhance export potential, create over 200 jobs, initially, and stimulate related industries. The enterprise is estimated to produce 600 tons of glass foil per day. The planet is expected to begin operations in 2026.
An International Monetary Fund (IMF) mission led by Ms. Clara Mira arrived in Chișinău on 25 September. The mission, which will last until 6 October, will engage in discussions related to the 2023 Article IV consultation, the fourth review under the Extended Credit Facility (ECF) and the Extended Fund Facility (EFF) arrangements, and Moldova's request for support under the new Resilience and Sustainability Facility (RSF). The mission aims to assess economic developments, discuss policy priorities, and address climate-related vulnerabilities.
The Moldovan government is set to initiate discussions for a €5 million loan from Poland's Bank Gospodarstwa Krajowego, on 19 September 2023. The loan, with a 7-year term, will be directed toward the Fund for Entrepreneurship and Economic Growth of Moldova (FACEM), managed by the Organization for Entrepreneurship Development (ODA). This financial support aims to bolster the small and medium-sized enterprises (SME) sector in Moldova.
Philip Morris International (PMI) has committed to a $3 million investment in Moldova, as announced on 14 September 2023. The investment will go toward specialized equipment for the "Tutun-CTC" factory, which will produce brands from the PMI portfolio. The move also aligns with the implementation of a "track and trace" tobacco product traceability system, set to become law in 2026, aiming to combat illicit cigarette trade.
PMI's investment is expected to boost the country's economy, create jobs, and send a positive signal to other potential investors. Despite industry challenges posed by the pandemic and the Russian invasion of Ukraine, PMI has expanded its presence in Moldova.
---
by Vlad Sutea and Will Kingston-Cox