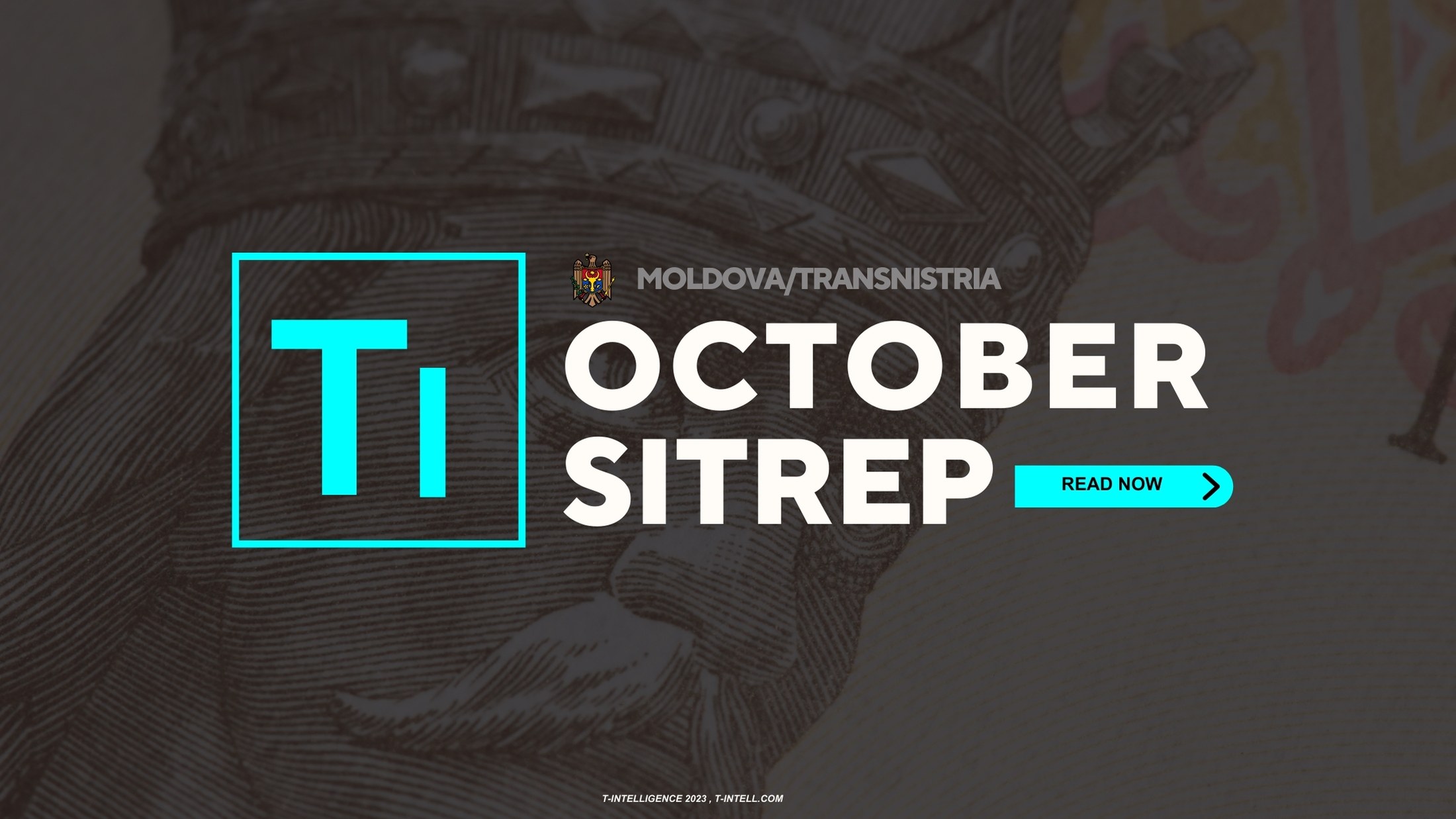 The Moldova/Transnistria Situation Reports (SitReps) are a response to the intelligence obtained by Ukraine and Moldova indicating that Russia plans to overthrow the democratically elected government in Chișinău and maintain the threat of Transnistria high for Ukraine. Drawing from open-source information (OSINF), the newsletter will provide periodic updates on security-relevant developments and analysis. See previous sitreps under the dedicated Moldova & Transnistria section on T-Intelligence and Linkedin, and our threatcast on a possible Russian operation to link up with Transnistria. 
---
KEY JUDGEMENTS
Moldova is actively preparing for EU accession negotiations, aligning with a recently approved national plan covering the 2024-2027 timeframe. State visits from European Commission President Ursula von der Leyen and Portuguese President de Sousa to Chișinău highlight Moldova's continued efforts to integrate into the European community. 

Moldova takes mid to long-term steps towards reducing its dependence on Russian-controlled energy sources. The construction of high-voltage power lines connecting Moldova to Romania, the promise of European investments in renewables, the possible construction of a new power plant, as well as other measures, set a clear pathway towards energy independence. However, Moldova is set to remain dependent on the Russian-controlled Moldavskaya GREP power plant in Transnistria throughout 2024. 

The Moldovan National Army (MNA) continues to hold joint exercises with United States forces, such as the "Aurochs Partner-2023." Furthermore, the receipt of two Piranha 3 armored personnel carriers, part of a 19-unit donation, from Germany bolsters the country's defense capabilities for peacekeeping missions. 

Moldova's economic outlook receives a boost with significant support from the European Commission, which has pledged €72.5 million in financial assistance. This support aligns with Moldova's ongoing efforts to meet additional funding needs in 2023 and is in harmony with the International Monetary Fund program. Moldova's agricultural sector showcases remarkable growth, with a 27.5% increase in gross agricultural production in the first nine months of 2023.

Moldova intensifies efforts to counter Russian influence and hybrid tactics, blocking 31 internet portals, most operated from Russia and linked to fugitive oligarch Ilan Șor. From the left side of the Dnister, Transnistrian negotiator Vitaly Ignatiev dismisses comparisons to the fate of the "Artsakh republic" in Nagorno-Karabakh and decries Chișinău's lack of consultation on EU ascension.
SITREP: 1-31 OCTOBER 2023
EUROPEAN INTEGRATION AND FOREIGN AFFAIRS
Moldovan President Maia Sandu welcomed Portuguese President Marcelo Rebelo de Sousa to Chișinău on 30-31OCT2023. This visit marked a significant development in bilateral relations, following President Sandu's earlier state visit to Portugal on 2 OCT 2023. The presidential press service reported that both heads of state discussed the strengthening of Moldova's democracy and improving the living standards of its citizens as part of the country's aspirations to join the European Union.
Deputy Prime Minister and Minister of Foreign Affairs and European Integration Nicu Popescu announced that Moldova is preparing for negotiations on its accession to the European Union. This announcement followed the approval of the national plan for Moldova's EU accession for the years 2024-2027 during a cabinet meeting. The Foreign Affairs and European Integration Ministry (MAEIE) will oversee the general coordination of the plan's implementation. 
The current ascension plan is in line with President Sandu's recent statement that she hopes the European Union will accept Moldova in the "next few years" and "earlier than 2030." 
Belarusian Opposition Leader Svetlana Tihanovskaia visited Moldova on 20-21OCT2023. During her visit, Tihanovskaia met with President Sandu, Parliament Speaker Igor Grosu, and a group of deputies. The discussions focused on "common European aspirations." Tihanovskaia also participated in the Moldova Women Forum 2023.
President Maia Sandu welcomed Ukraine's recognition of the Romanian language for the Romanian-speaking community in Ukraine. Ukrainian President Volodymyr Zelenskiy emphasized the development of trilateral cooperation between Ukraine, Moldova, and Romania. Prime Minister Marcel Ciolacu confirmed that starting with 19OCT2023, the official language for the Romanian minority in Ukraine is Romanian, not Moldovan.
European Commission President Ursula von der Leyen traveled to Chișinău to underline the EU's support for Moldova's aspirations on 12OCT2023. President von der Leyen met with President Sandu and Prime Minister Recean and held a joint press conference with the former. President von der Leyen remarked that Moldova is making "excellent progress" on EU ascension and reemphasized the economic aid and support the EU has been providing Moldova for the past years. In addition, she mentioned that roaming charges will be lowered from 1JAN2024.
ENERGY SECURITY
Moldova is set to enhance its energy capabilities with the construction of new high-voltage power lines connecting it to Romania, Energy Minister Victor Parlicov announced on 30OCT2023. These new power lines will open up opportunities to diversify electricity imports and strengthen Moldova's energy security.
Parlicov emphasized that these power lines will not only strengthen Moldova's energy security but also position the country as a bridge between two significant energy markets: Romanian and Ukrainian. 
The Vulcănești-Chișinău line is expected to be completed by 2025 while the Suceva-Balti one will be in 2027. A third Romanian-Moldovan high-voltage power line is under discussion. The construction of these power lines signifies a significant step towards reducing Moldova's dependence on the Russian-controlled Moldavskaya GREP (MGRES) power plant in Ciucurgan in the so-called "Pridnestrovian Moldovan Republic" or Transnistria.
Portuguese company Greenvolt expressed interest in building a wind power plant in Moldova. The 200 million euro investment was discussed at the Moldovan-Portuguese economic forum, which took place on the sidelines of President de Sousa's visit to Chișinău.
In the fourth quarter of 2023, the average purchase price for Russian gas supplied to Moldova will be $820 per thousand cubic meters. The information, publicized by Energocom board member Alexander Slusar, was conveyed in a letter from the head of Moldovagaz, Vadim Cheban, to the Moldovan Ministry of Energy on 26OCT2023. 
The letter from Moldovagaz also mentioned that they have not received data from Gazprom to predict gas prices for Q1 2024. However, Moldovagaz's estimates suggest that the purchase price in Q1 of the following year will be approximately $510 per thousand cubic meters of gas. 
Moldova's Energocom has extended the electricity purchase contract with the MGRES power plant in Cuciurgan until the end of 2024, as announced on 25OCT2023. In November, MGRES will deliver around 257,000 MWh to the territory right of the Dnister, excluding some area (e.g. heating plants in Chișinău and Bălți, renewable sources), according to the agreement. In the event of peak house, Energocom will import additional electricity from Romania and Ukraine, as well as from the Romanian OPCOM exchange.
The volume of electricity purchased from MGRES will decrease to 230-250,000 MWh in the winter, amounting to 65% ​​of the needs of the right bank of the Dniester. 
Note that all of the natural gas purchased by Moldova from Gazprom goes into the MGRES to produce electricity, which is then sold to Energocom for consumption by the right bank of the Dnister. While MRES is located on the left side of the Dnister and falls under de facto control of the so-called "Pridnestrovian Moldovan Republic (PMR)", the power plant is owned by Inter RAO UES, a Russian company. 
Moldova possesses at least 11 regions with untapped wind energy potential, according to a preliminary study conducted by USAID's Energy Security Project of Moldova and presented to the Ministry of Energy on 24OCT2023. The utilization of these areas could contribute to increasing the share of green energy in Moldova to 30% by 2030. The study took into account various factors, including infrastructure, proximity to power stations, line capacity, and access roads. 
After a screening process, 11 areas with high potential for wind farm development were identified. These results are expected to pave the way for government-organized auctions for large wind farms by the end of the year.
Czech investors are interested in building a new power plant in Moldova, according to State Secretary at the Ministry of Energy Constantin Borosan, on 16OCT2023. Borosan made the statement at the Moldovan-Czech business forum, which took place in Prague. The new energy project considered by Czech investors would help Moldova balance out its power grid as it seeks to integrate more renewable sources. 
Moldova and Ukraine are working to enhance the attractiveness of the natural gas transport corridor between Greece and Ukraine, as announced on 5OCT2023. A decision by the Commission for Exceptional Situations will apply a 100% discount to the entry and exit tariffs at two of the four interconnection points (Grebenyky and Ananiev) of the natural gas transportation system. This discount will be applicable to system users transporting natural gas to storage depots in Ukraine, making the route more appealing. 
Energocom has already demonstrated the feasibility of this "vertical corridor" for natural gas transport between Greece and Ukraine. Simplifying this route is expected to enhance its competitiveness and attract more users, thereby strengthening energy security in the region.
Moldovan Energy Minister Victor Parlicov said Moldova will no longer buy natural gas from Gazprom for the territory controlled by "constitutional authorities", on 2OCT2023. Parlicov added that Moldova managed to buy gas from European suppliers at a better price than Gazprom. However, Parlicov's statement implies that gas purchases will continue for the left side of the Dnister, which are needed to power the MGRES plant that produces electricity used by Moldova. 
ECONOMY & INVESTMENT
The European Commission has committed to providing €72.5 million in financial support to the Republic of Moldova as part of the ongoing Macro-Financial Assistance operation. In a recent disbursement, Moldova received a €50 million loan, with an additional payment of €22.5 million in grants expected by the end of the month. The support from the European Commission will help cover part of Moldova's additional funding needs for 2023, aligning with the ongoing International Monetary Fund program for Moldova and facilitating progress on its path toward European integration.
In the first nine months of 2023, Moldova's gross agricultural production experienced substantial growth, with a 27.5% increase compared to the same period in 2022, adjusted for comparable prices. This increase is primarily attributed to a 46.1% surge in crop production, while livestock production saw a 4.2% decline. The harvest of grains and legumes, excluding corn, reached 1.802 million tons, representing a 76% increase from the previous year. Notable increases were observed in wheat (77%), barley (80%), and legumes (41%). 
DEFENSE: MODERNIZATION, READINESS AND CAPACITY BUILDING
More than 50 Moldovan and American forces participated in the "Aurochs Partner-2023" in Florești and Bălti districts (Moldova) on 25-30OCT2023. The training involved jumps from the C-17 Globemaster aircraft using the MC6/T-11 parachute system. The primary objectives of these training exercises were to enhance interoperability between participating soldiers and to practice modern techniques, methods, and procedures.
A team of American soldiers is providing training assistance to the "Ștefan cel Mare" Motorized Infantry Brigade of the Moldovan National Army (MNA). The Security Force Assistance Brigades (SFAB) expert group from the United States is conducting activities that encompass both individual and collective training for the military. These activities are aligned with the Moldovan-U.S. bilateral collaboration plan.
The MNA received two new Piranha 3 APCs from Germany on 17OCT2023. These are part of a 19 Piranha donation package pledged by Germany as part of an agreement signed between Chișinău and Berlin in 2021. The MNA will use the Piranhas to train for peacekeeping missions. 
President Sandu presented the draft National Security Strategy during the Supreme Security Council meeting on 12OCT2023. President Sandu emphasized two primary dangers to national security: Russia's aggressive policy toward Moldova and the corruption rooted in Moldova.
The National Security Strategy sets forth three key objectives: 
protecting and ensuring the safety of all citizens, 

establishing a robust and respected state, 

and pursuing European Union membership for guaranteed peace. 
To achieve these goals, the strategy calls for:
increased investments in defense and security;

progress towards resolving the Transnistrian conflict; 

development of security partnerships with democratic countries; 

intensified anti-corruption efforts; 

and the establishment of strong law enforcement institutions.
RUSSIA AND TRANSNISTRIA
Moldova's Intelligence and Security Service (Serviciul de Informații și Securitate/SIS) issued an order to block 31 internet portals in the country, with the majority directly operated from Russia, on 30OCT2023. Of the 31 blocked websites, 21 are managed from the Russian Federation. Some of these websites were linked to fugitive oligarchs Ilan Șor and Vlad Plahotniuc. SIS Chief Alexandru Moștenace emphasized that the actions of these individuals and Russia's hybrid tactics were aimed against Moldova. The National Commission for Exceptional Situations made this decision to protect the country's information space. 
Earlier, Moștenace announced that six TV channels would be blocked during the state of emergency, including Orizont TV, ITV, Prime, Publika, Canal 2, and Canal 3. In spring, Moldova had already blocked the Politnavigator and Newsfront portals, as well as the new
NATO calls on Russia to withdraw its forces from the Moldovan territory of Transnistria. The statement, one consistently issued by NATO, was made by Secretary General Jens Stoltenberg in a joint press conference with Moldovan PM Recean on 26OCT2023. 
PMR negotiator Vitaly Ignatiev dismissed the idea that the Nagorno-Karabakh solution could be a model for resolving the Transnistrian issue, on 23OCT2023. He made this statement in an interview with the Russian agency RIA Novosti. Ignatiev also emphasized that Moldova had not engaged with Transnistria regarding its integration into the European Union or Moldova's quest for EU candidacy. Ignatiev also said the PMR leadership is actively updates Russia on the region's situation and seeks political, diplomatic, and economic support. 
The Ukrainian government decided to reopen the international checkpoint at Pervomaisk-Kuchurgan, located on the Transnistrian section of the Ukraine-Moldova border, 13OCT2023. This checkpoint had been closed due to concerns over Russian aggression, prompting Ukraine to strengthen its border security and destroy the railway bridge across the Kuchrugan River.
Moldova's Bureau of Reintegration condemned Tiraspol's plan to impose fees for vehicles over 18 tons not registered in Transnistria, effective from January 1, 2024. Moldova considers this move unlawful and part of a series of provocations by Tiraspol, obliging Moldovan-registered vehicles to make unauthorized payments to cross certain Transnistrian areas.
President Sandu claimed, in an FT interview on 6OCT2023, the Wagner Group was involved in a thwarted coup attempt to overthrow her and destabilize the country earlier this year. She claimed that the coup was planned by the late Wagner leader, Yevgeny Prigozhin, and that Moscow used various methods, including financial channels via Dubai, to funnel money into Moldova and influence voters ahead of upcoming elections. 
President Sandu is likely referencing the February-March 2023 anti-government protests organized by Șor Party, an assessed Russian asset, which Moscow planned to escalate into an insurrection. Trained provocateurs were to infiltrate the protests and seize the government building, forcing an overthrow of the government in Chișinău. However, Moldovan Intelligence managed to foil the plot. 
Note that the U.S. Department of Treasury- Office of Foreign Assets Control (OFCA) sanctioned seven Russian citizens involved in the plot. The training for the provocateurs was facilitated by Mikhail Potepkin, former Regional Director for M-Invest- one of the cover companies for PMC Wagner. 
---
DISCLAIMER: T-Intelligence does not recognize the existence of the entity self-proclaimed as "Pridnestrovian Moldovan Republic (PMR)". We remind readers that in line with international law, the territory left of the Dnister River, referred to geographically as "Transnistria," is Moldovan territory. No United Nations member, including Russia, has recognized the existence of the PMR. 
by Vlad Sutea and Will Kingston-Cox