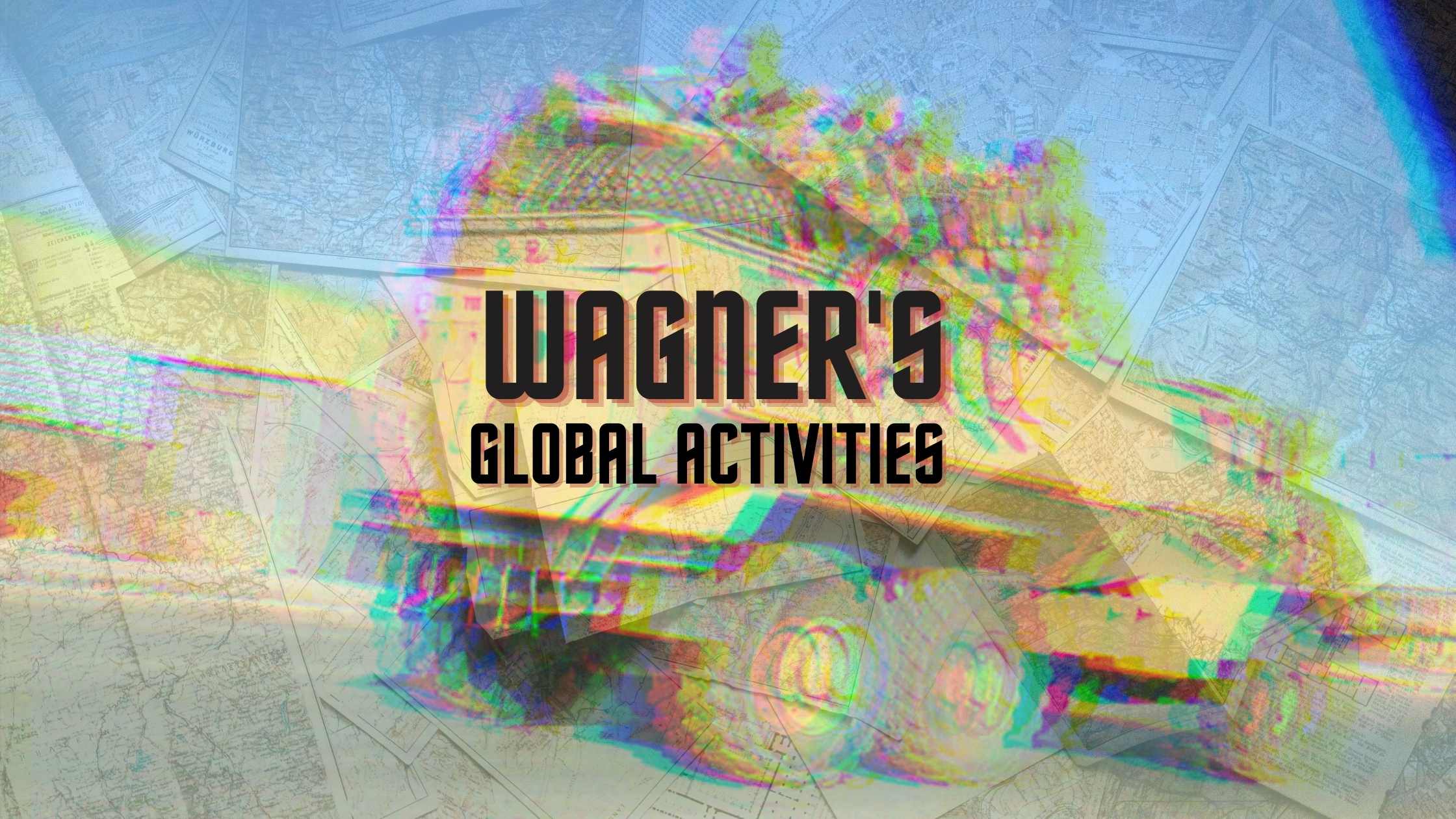 Key Judgements
Since its inception in 2014-2015, the Wagner group has expanded from a frontline contractor in Eastern Ukraine, to spearheading Russia's foreign policy and private business objectives in Syria, Libya, the Central African Republic, and many other states. As Wagner's reach is constantly expanding, our mapping project aims to filter through speculation and leverage open-source intelligence (OSINT) to track Wagner's presence and activity worldwide.

The Wagner group, such as it is, does not exist as a traditional PMC but as an interconnected network of mercenary groups, semi-state forces, and corporations with links to the Kremlin. As a result, Wagner's activities are very difficult to track and categorize.

If left unchecked, the Wagner group will very likely remain an effective and transient tool of the Russian security apparatus, combining aspects of state forces, private military companies, and paramilitaries. 

Wagner activities will likely continue to be equally focused on supporting Russian private business interests as foreign policy objectives.
DENIED AND DENIABLE: WAGNER GROUP
"Wagner Group" is an umbrella term that refers to the network of mercenary groups with ties to the Kremlin and controlled by Russian oligarch Yevgeny Prigozhin. The Wagner Group is used to advance Russia's foreign policy objectives with a modicum of plausible deniability, as no such group formally exists and is denied by Russian officials. 
Utilized in everything from disinformation to site protection and offensive combat operations, the Wagner Group escapes conventional definitions of Private Military Companies (PMC) and has become increasingly active globally. 
Wagner PMC is known to operate under different names and structures, often related to mining, or military training, further obscuring the group's activities. Existing literature focuses on the debates over Wagner's functionality, goals, history, and even its very existence. However, limited attention has been directed towards the breadth of the network's global activities. Herein we identify the locations of Wagner activity worldwide based on open-source reporting and assess the likelihood that Wagner is indeed active in each country.
A few things to understand before discussing the so-called Wagner group's activities worldwide:
Due to the vague nature of the Wagner network and often imprecise and conflicting online reporting, much of the group's activity cannot be identified with 100% certainty. Here we have opted to categorize Wagner activity as: Confirmed, Likely, Possible, and Unlikely.

It is important to note that beyond PMC Wagner, several other Russian PMCs remain active. It is possible to misidentify these PMCs as Wagner, especially with vague and unverified reports.
ACTIVITY LOG: TRACKING WAGNER'S GLOBAL REACH
Russia/At Home:
Like any PMC or military entity, Wagner trains its contractors before departing on missions. Supported by Russian military and intelligence personnel, Wagner conducts training at two locations attached to the 10th Special Mission Brigade of GRU Spetsnaz in Mol'kino, Krasnodar region, Russia. These facilities feature airborne training and obstacle courses, weapons and munitions storage buildings, and barracks, among others. 
---
Ukraine:
Russia's invasion of Ukraine provided the impetus for the creation of the Wagner group. Wagner mercenaries were instrumental in numerous battles throughout the conflict, notably in Crimea and later the Donbas region. Donbas war veterans formed the foundation of Wagner's ranks, and the group continues to recruit from Russian-occupied eastern Ukraine.  
Estimates put the number of Wagner operators in Ukraine anywhere from 2,500 to 5,000 at their peak, operating in support, intelligence, and direct combat roles. Wagner mercenaries were pivotal in the battles for Luhansk airport and in the seizure of the strategic town of Debaltseve in Donetsk oblast.
Activity Status: Confirmed – Limited continued presence
---
Syria:
Wagner has been active in the Syrian civil war in support of President Al-Assad's government since October 2015. Taking part in numerous battles in key roles, Wagner has been able to win a stake in the country's energy industry for companies linked to Prigozhin and the Kremlin. 
Estimates place the number of Wagner operatives as high as 2000 at different points in the Syrian civil war. Wagner also involved in the training of various Syrian millitias groups loyal to Bashar al-Assad, and Palestinian militias. By 2017, Wagner had already played a key role in recapturing parts of Deir ez-Zor province. In February 2018, Wagner contractors alongside Iranian-backed militias and Syria army units, attempted to capture an oil field from the U.S-backed Syrian Democratic Forces (SDF). Swift U.S. airstrikes obliterated the Wagner attack, resulting in massive casualties for the Russian mercenaries (some estimate over 100 Wagner KIA). 
Wagner maintains a presence at the strategically important Tiyas airfield (T-4) and in central and eastern Syria. In addition to supporting Russian foreign policy goals, Syria served as an important proving ground for the use of Wagner, leading to the PMC's global deployment. 
Activity Status: Confirmed – Limited continued presence.
---
Libya:
Numbering in the thousands, Wagner mercenaries have been omnipresent in the Libyan conflict since 2015. Wagner operatives served in critical frontline roles supporting General Haftar's Libyan National Army (LNA) against the UN-recognized Government of National Accord. 
Wagner contractors trained LNA forces, engaged in combat operations, including the assault on Tripoli, and secured the LNA's critical infrastructure (oil refineries and the ports of Tobruk, Derna, Benghazi, and Sirte). Wagner is also notorious for executing prisoners and placing mines and booby-traps in civilian areas. 
Wagner affiliated personnel also pilot Russian fighter aircraft (e.g. Su-24 "Fencer") and operate advanced air defense systems (Patnsir S-1/SA-22) on behalf of the LNA. Wagner infantry in Libya are equipped with utility trucks mine-resistant, ambush protected vehicles.
The east Libyan al-Kahdim airfield is likely Wagner's headquarters in the country.
The group continues to be engaged in the Libyan Civil War despite ceasefire agreements necessitating the removal of foreign fighters. 
Activity status: Confirmed – Limited continued presence.
---
Mozambique:
Two years into the bloody ISIS-linked insurgency in Mozambique's northern region of Cabo Delgado, the government reached an agreement with Wagner to combat the insurgents in exchange for a stake in the country's natural resource industries. Wagner commenced combat operations in Mozambique in October 2019. After initial success Wagner hit a wall and sustained notable casualties, leading to Wagner deciding to pull out of the agreement. Wagner was later replaced by Dyck Advisory Group (DAG).
Activity status: Confirmed – No longer present.
---
Central African Republic:
In early 2018 reports highlighted that Russia had sent Wagner trainers to the CAR to assist in the government's fight against rebel elements. Despite the fact that the Wagner operatives were brought in for training, SOCMINT evidence suggests that the contractors have been involved in combat and human rights abuses. Wagner group affiliates/fronts "Lobaye Invest" and "Sewa Security" have secured a stake in the country's diamond and gold mining industries in exchange for kinetic services. 
Satellite imagery shows increased use of the group's reported base of operations, Berengo Palace. Located southwest of the capital of Bangui, satellite imagery highlights increased traffic and what appears to be the use of an airstrip. 
Operating under the "SEWA Security" banner or with no markings at all, Wagner has also provided VIP protection to CAR President Touadera.
To learn more about Wagner activities in CAR, read our early report on Wagner's growing presence, and our analysis of Russia's troop surge ahead of 2021 CAR presidential elections. 
Activity status: Confirmed – Growing presence.
---
Sudan:
Reports from 2017 indicate that Wagner mercenaries had been redeployed from Ukraine and Syria to support President Omar al-Bashir's military with training and aid in suppressing demonstrations. Wagner-affiliated companies "Meroe Gold" and "M Invest" search for gold in the country with permission from al-Bashir's government. Wagner's presence in Sudan also reinforces Russia's geopolitical position with a significant presence along the coast of the Red Sea and provides a supply line to the group's operations in CAR. The Kremlin confirmed in 2019 that "Russian companies" are training the Sudanese army.
Photos emerged this week of an Ural-4320 military truck in Khartoum, Sudan with Russian-speaking paramilitary figures, possibly from the Russian Wagner PMC.https://t.co/KcrothpVwX pic.twitter.com/cZBeuGp38S— Rob Lee (@RALee85) January 5, 2019
Activity status: Confirmed – Continued presence.
---
Madagascar:
Wagner provided security detail to the political strategists hired by Prigozhin to assist the Madagascarian presidential election in 2018. Prigozhin received a contract to run an existing chromite mine in Madagascar in exchange for electoral assistance and interference. In April of the same year, reports suggest that these same Wagner contractors are being used to protect Prigozhin's exploitation projects. 
Activity status: Confirmed – Very limited continued presence.
---
Venezuela:
Wagner contractors were brought in to assist embattled President Maduro in the face of political and social opposition in 2019. Reports suggest that Wagner contractors assisted in providing security for Maduro and his administration, as well as local Russian business interests. In 2019 there were reportedly 400 Russian mercenaries in Venezuela. 
Wagner's tasks beyond simple security roles included recruiting informants and helping to train Maduro-backed militias. Wagner's presence is heavily tied to Russian geopolitical and economic interests in the country. In 2020, Rosneft, the largest Russian oil company in Venezuela, sold all its assets to an unnamed company owned by the Russian government, further solidifying Moscow's interests.
Activity status: Confirmed – Limited continued presence.
---
Nigeria:
Pre-Wagner affiliate Moran Security Group was known to be active in security roles in the shipping industry. Moran contractors were arrested at the port of Lagos in October 2012 for trafficking weapons. However, after Moscow's involvement, the men were released.  
Moran Security Group created the Slavonic Corps to branch away from its traditional security roles, which later morphed into the first iteration of the Wagner Group. 
Recently reports have emerged that Prigozhin has been spotted in Lagos meeting with the Nigerian government and military officials, including with Nigerian Army Chief of Staff Farouk Yaha, in 2021. Prigozhin's alleged meeting in Lagos coincides with a Gulfstream G550 flight to Nigera, namely P4-BAR – an aircraft associated with Wagner. 
LNA/Haftar related Sonnig Jet Gulfstream 550 P4-BAR continued from Barcelona, Spain to Lagos, Nigeria, where it landed about 1800hrs UTC 22Jun2021 pic.twitter.com/hSx0L6tdEI

— ALandewers (@ALandewers) June 23, 2021
The meetings are likely connected with the fight against ISIS-affiliate Boko Haram in northern Nigeria. 
Activity status: Possible – Discussions about bringing in the Wagner group appear to be underway, although Nigeria has made noted use of more traditional PMCs.
---
Chad:
Wagner's well-documented activity in CAR and Libya has led to speculation that Russian mercenaries have also penetrated neighboring Chad. Further reports suggest that Wagner has assisted in arming and training rebel groups in northern Chad in 2016. Rebel incursions lead to the death of Chadian President Idriss Deby Into.
Wagner-linked activities in Chad will likely intensify due to the group's heavy presence in Libya and Russia's growing interest in Africa. 
Activity status: Likely – Contemporary reports of Wagner indirect influence coupled with Russian interest in the region suggest likely further activity in Chad.
---
Cuba:
Amid the political upheaval in Cuba, OSINT enthusiasts have tracked flights and a freighter previously associated with the Wagner group to the country. Given Moscow's traditional relationship with Cuba, the state of upheaval, and Wagner's noted presence in Venezuela, we may see Wagner's arrival in the coming weeks or months.
We might have our answer, lads and ladies.

Note well the falsified AIS comment, as it was aberrant AIS signals that first caught my attention with this ship.

Whatever it may be broadcasting, it's been "dark" just offshore at Mariel, Cuba for days.

Below are from last year. https://t.co/tia31pERcr pic.twitter.com/frG1lD7qpV

— HUNTSMAN 🇺🇸 (@man_integrated) July 13, 2021
Kuuban miekkareihin liittyvä uutisointi kirvoitti mieleni tutkimaan tapahtuvaia lentoja Kuubaan.

Vain Wagner PMC:hen aiemmin liitetty Nordwind Airlines ja Azur Air lennättävät 'turisteja' Kuubaan juuri nyt.

Wagnereilla jalansija Kuubassa jo aiemmin🤔 https://t.co/B7qhCnurpk pic.twitter.com/M4M57BfRde

— HJ Mäki-Kuhna 🇫🇮🇪🇺 (@JKuhna) July 13, 2021
Activity status: Likely – Though not currently active, Wagner personnel will likely arrive in the country.
---
Mali:
While there are unverified reports of Wagner operatives arriving in Mali to fight the ISIS-linked insurgency, recent reports highlight ongoing negotiations for Wagner involvement in Mali. Russian foreign minister Sergei Lavrov further corroborates these reports by stating that Mali's government has asked for "Russian PMC" assistance – a clear nod to Wagner. 
Activity status: Likely – discussions are ongoing.
---
United Arab Emirates 
The US intelligence community received reports in the summer of 2020 that provided links between the UAE and Wagner mercenaries active in Libya. As the UAE makes noted use of foreign fighters it is unsurprising to see the UAE turning to foreign mercenaries for foreign policy objectives. This provides an interesting precedent for both the UAE and Wagner.
Activity Status: Likely – Indirectly, evidence suggests the UAE is involved financially with the Wagner network.
---
Equatorial Guinea:
Sightings of Prigozhin-associated flights and multiple news reports indicate a nascent Wagner presence in the country. Furthermore, a report suggests that some 200 Wagner operatives protect Russian intelligence officials at the Pico Basile Island spy base.
Latest information indicate that Equatorial Guinea had planned to involve Wagner in providing security in the country, but failed to reach a deal as it also wanted possible assistance in a coup against the incumbent President. 
Activity status: Possible – Numerous unverified reports naming Guinea as a state where Wagner has influence. However, the lack of evidence or corroborating reports makes it unclear. 
---
Nicaragua:
A Russian training center exists in Nicaragua since 2013, hundreds of Russian military personnel were sent to the country for "joint military exercises," "humanitarian and military operations training," and "anti-drug trafficking." However, reports suggest that these "instructors" played a significant role in cracking down on anti-government protests. 
The Russian military personnel are not thought to be affiliated directly with the Wagner group at this time. However, as Russia continues to rely on relationships with Venezuela, Cuba, and Nicaragua for a geopolitical foothold in the region, the Kremlin might insert Wagner in the country, if not already. 
Activity status: Unconfirmed but possible – No explicit link identified, but numerous linkages have been highlighted. Nicaragua's operational environment is optimal for Wagner activity.
---
Iraq:
No direct involvement of Wagner or Wagner affiliates has been noted in Iraq at this time. The Wagner group has previously been highly active in eastern Syria near key Iraq border crossings but there is no indication that Wagner undertook operations across the frontier. 
Other Russian PMCs, including the Antiterror-Orel Group and the Moran group, linked to Wagner's emergence, had previously operated in Iraq.  
Activity status: Unlikely – Wagner might emerge in Iraq if the operational environment becomes more permissive due to a US/NATO withdrawal. 
---
Nagorno-Karabakh Region (NKR):
Chatter emerged from forums and social media accounts associated with Wagner contractors insinuating that the group was operating in the conflict, these claims were eventually disproven by Bellingcat. 
Displeased with Armenian PM Pashynian, Russia has been unusually detached from the flare-up in NKR, and only stepped in after the formal conclusion of hostilities in December 2020. If secretly deployed, it is possible that Wagner mercenaries only entered NKR as part of Russia's "peacekeeping force." 
Activity status: Unknown
---
Belarus:
In July 2020, before the country's presidential election, Belarussian authorities arrested 33 Wagner-linked contractors on suspicion of plotting terrorist attacks to destabilize the elections. Reports later came to light that the men were members of a PMC lured to Belarus through a joint operation by Ukrainian and US intelligence services intended to arrest members of the Wagner group active in the war in eastern Ukraine – former Ukrainian president Petro Poroshenko seemingly confirms the information. 
Activity status: Unlikely – Wagner is extremely unlikely to be active in Belarus, more likely to be in transit to Libya, Sudan, CAR or elsewhere.
---
Tanzania:
Russia and Tanzania signed an agreement in 2016 for joint military training at Russian facilities. While Wagner often fills these roles for the Kremlin, no evidence suggests they are active in Tanzania at this time. Previous activity along Tanzania's southern border with Mozambique is not thought to have spilled over into the country.
Activity Status: Unlikely – Russian military activity does not always translate to Wagner presence, especially when overt agreements are made between the state. 
---
South Africa:
There is no evidence to suggest a Wagner presence in South Africa; however Prigozhin-linked political strategists have assisted parties involved in the 2019 presidential election. 
Activity status: Unlikely –The presence of numerous South African-based PMCs means mercenary activity is unlikely. Though Prigozhin-linked political strategists are very likely to maintain a presence.
---
Inconclusive Reports of Wagner Activity:
The following highlights inconclusive reports of Wagner activity, due to lack of evidence or corroborating reports.
Eswatin: Unverified reports suggest Wagner maintains a presence in the country and has trained Ewatini's troops on new weapons systems.
Rwanda: Rwandan troops fought against Rebels in  CAR as part of a bilateral agreement alongside Wagner elements.
Yemen: Rumors and social media reports indicate that a "Russian PMC" is active in the Yemeni Civil War. However, there is no credible report naming Wagner. Wagner-trained Sudanese militias have, however, deployed and fought in Yemen.
Zimbabwe: Nondescript reports have claimed that Wagner maintains an office in the country. Additionally, there have been claims that President Emmerson Mnangagwa's 2018 election campaign was assisted by Russian political advisors associated with Wagner.
---
END NOTE: This tracker will be periodically updated as new open-source information emerge relating to Wagner activity. 
by Matt Sutherland 
This assessment was made using Open-Source Intelligence (OSINT) techniques and resources. Visit Knowmad OSINT to learn more about our online OSINT training.