AFTER-ACTION REPORT – At 4:20 Damascus time, April 14, 2018, a joint Air and Naval operation of the United States of America (USA), Republic of France and the United Kingdom of Great Britain (UK) launched air strikes and Tomahawk Land Attack Missiles (TALM) from assets present in the Mediterranean and Red Seas, as well as from the Arabic/ Persian Gulf towards Syria. The military action was a direct response to the Assad's regime use of Chemical weapons against civilians and Opposition Forces in the Damascus city of Douma – the last pocket near Eastern Ghouta unconquered by the Loyalists at that time.  Days before the highly expected but unconfirmed strike, T-intelligence (Ti) has successfully forecasted the time-frame, targets and nature of the joint U.S., British and French response. In the two cables posted on the Facebook page on April 12 (Post 1, Post 2), Ti assessed the Trump administration's intentions and unpeeled most of the operational timeline of the strike. The following assessment reflects on the analytical process and facts that weighted into the operation, as well as the outcome of the military engagement: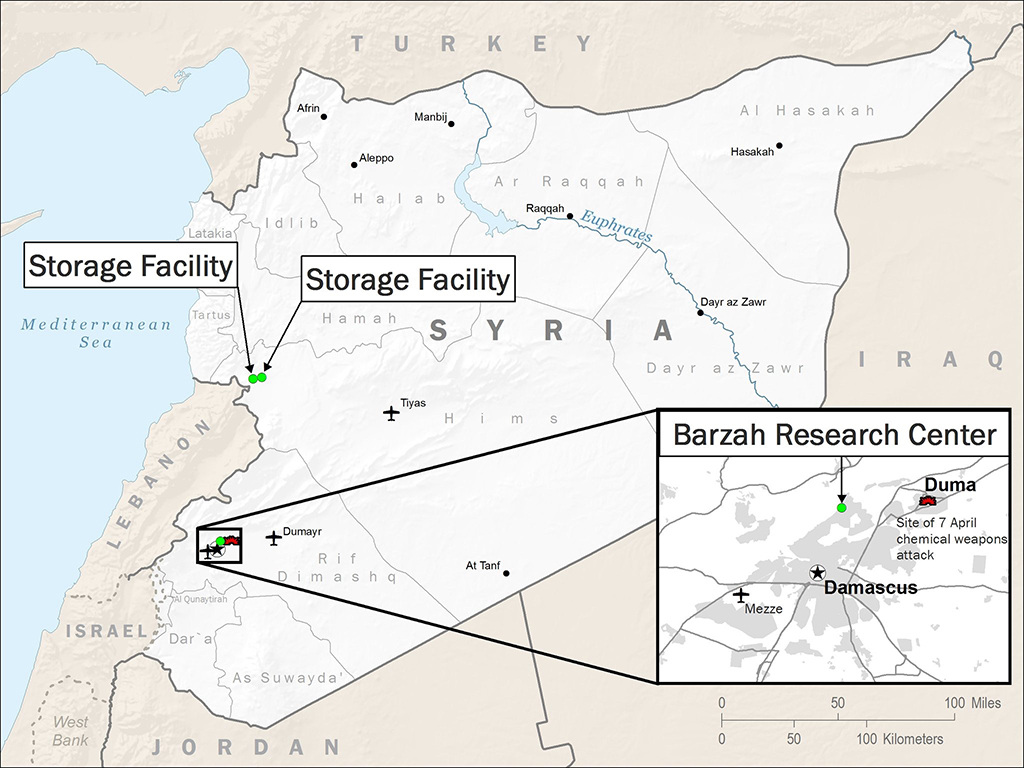 Intentions of the Trump administration: Reinstate Deterrence through Controlled Escalation
Following the Douma gas attack and the immediate political messages sent from Washington, London and Paris, Ti judged that a military retaliation against the Bashar al-Assad regime is not only highly likely, but imminent. The judgement was also fueled by the 2017's precedent set by Donald J. Trump, when he directed 59 Tomahawk Land Attack Missiles (TALMs) to hit the Shayrat air base – the location used to deliver the chemical attack in Khan Sheykoun by the Assad regime. The Trump administrator drew a red line in the sand, Assad broke it, and retaliation swiftly followed. Ti was looking for the same formula but in a bigger, more punitive format.

Ti assessed that the Trump administration did not take this decision lightly, as the President has earlier signaled plans to exit  the Syrian Civil War. He repeatedly stated that he intends to withdraw the almost 2,000 U.S. troops deployed in Syria (mostly consisting of costly and limited Special Operations Forces) as major operations against ISIS/ DAESH are coming to an end. Allies and regional partners are attempting to backtrack this decision, with President Macron claiming success. Key Arab countries are pressured to make contribution that would maintain U.S. presence as a counter to Iranian hegemony in the region. Inherently, a military strike was to be politically-cautions enough that it would not drag the United States further into the civil war and the geopolitical confrontation that it involves. However, a large scale than last year's attack was needed and expected for doubling-down on President Trump's redline. 

Ti looked for a larger military and logistical build-up in comparison to last year's strike, as a way to validate and measure the likelihood of an attack. Subsequently, a more ambitious and larger target-list was expected. 

With the use of military force, Allies sought to reinstate a credible deterrent against further use of Chemical weapons, and (b) to degrade the capabilities of the Assad regime, and subsequent Syrian Arab Army (SAA) from conducting similar attacks in the future. The thin line that curbed operational "creativity" was a possible escalation with Russian and Iranian forces embedded with their Syrian allies. Secretary of Defense James Mattis especially feared possible repercussions against the 2,000 U.S. troops operating against the remnants of ISIS/ DA'ESH in northern and eastern Syria within Operation "Inherent Resolve".

The Department of Defense worked in close coordination with the Joint Chiefs of Staff and U.S. Central Command to carefully compile a shortlist of targets for President Donald J. Trump to pick from. They had several guidelines to respect in the process of target-acquisition and evaluation:
Connection to the Syrian regime's Chemical and Biological Weapons program – facilities (storage, research) and delivery assets (fighter jets, helicopters);

Reduction and prevention of civilian casualties or collateral damage; and

Avoiding casualties among Russian and Iranian personnel present in Syria, operating in either solo or joint military compounds with their SAA counter-parts.
The campaign's philosophy was military-precise and politically-cautious. However, delays (due to political consultations in London, Paris) and premature twitter threats from President J. Trump have (possibility intentionally) complicated this process. The SAA began moving their air assets from major air fields to the Russian-owned Kheimeini Air Base in the coastline province of Latakia – a sanctuary from any possible U.S. strike. This rendered the Pentagon's objective of striking WMDs means of delivery unreachable. The Department of Defense had to continuously re-evaluate the strike list in accordance to the developments on the ground and incoming intelligence.

On Wednesday, U.S. officials suggested to commercial flight companies via Eurocontrol to avoid the Syrian airspace in the next 72 hours. While not very common, commercial no-fly zones have become a much more usual practice after the downing of flight Mh-17 by Russia in Eastern Ukraine. Ti judged with significant strength and confidence that this would be the window for the US, UK and FRA to get their house in order and commence with military operations.
---
CLAIM (Very Accurate): Inherently, the days suggested by Ti were Thursday, Friday and Saturday (12-14 April, 2018) – preferably at the crack of dawn (4-5 a.m. Damascus time).
OUTCOME: The operation commenced on Saturday pre-dawn 4:20 am Damascus time.
---
Thursday afternoon saw a two-hour long meeting in the White House attended by U.N. Ambassador Nikki Halley, Joint Chiefs of Staff, Vice-President Mike Pence, National Security Advisor John Bolton and Secretary of Defense James Mattis. No decision was made at that time due to reported disagreements between John Bolton and James Mattis regarding the targeting list. John Bolton, an ex-Bush administration official and a firebrand warhawk advocated towards a punitive strike against SAA installations, reportedly including air defense sites. James Mattis called for a proportionate response and related to the Syrian regime's WMD program, arguing that striking air defenses would escalate tensions with Russia and Iran, which could retaliate on the U.S. troops operating northern and eastern Syria. Also, Theresa May only received the full backing of her Cabinet on Thursday evening. President Trump then had a phone call with Prime-Minister May and President Macron to further discuss the situation – rumors suggested that the topic was the continuously changing target-list and the possibility of breaking the decision-making deadlock in the following days.

With the window of Thursday night/ Friday morning being missed, we assessed that the list of targets got shorter and weaker, but that a final line-up of locations was supplied to POTUS. The loss of military initiative severely weakened the potential impact of a campaign.  The Syrian Arab Army (SAA) had taken all the necessary measures to mitigate or eliminate the projected damage on its air fields and military. We assessed that the operation would try to compensate the lack of substance with a higher number of targets. There is also indication that Israeli intelligence has played a role in checking and compiling the list of targets. As reflected by the disappointment expressed by Israeli officials regarding impact and effect of the strike, Mossad's contribution did not make it in the final draft of the line-up. 
---
CLAIM (Relatively Accurate): Ti estimated that 4-8 targets would be hit, consisting of largely deserted air fields and facilities. They would have moderate military importance and would not cause casualties, especially not Russian or Iranian. Likewise, Ti noted with confidence that the US CENTCOM will maintain communications with their Russian counter-parts through the Qatar-based de-escalation, purposely to avoid unwanted incidents.
OUTCOME: The trilateral strike hit three targets (one military installation including an airfield, one WMD storage center, both in Homs; and a Chemical and Biological Weapons Research Center in Bazreh, Rural Damascus). The Joint Chief of Staff, General Joseph Dunford confirmed that the operation involved an exchange of communication with the Russian counter-parts regarding the de-escalation of certain parts in the Syrian airspace minutes before the missile were launched. Also, no human casualties (including Russian or Iranian) were reported due to the evacuation of personnel conducted by Damascus earlier that week.
---
Capabilities Employed: Tracking Assets and Flow of Logistics Surrounding Syria   
Ti has been tracking logistics and civilian & military (available) air traffic that could indicate a build-up in the Eastern Mediterranean by the US, UK and France. Effort had two short-falls: an over-focus on that particular area, when there are hundreds of other assets already deployed in some framework or form through the region – which were ultimately activated for the operation. Which leads to the second issue: white noise of open-source data. The myriad of ongoing active deployment, engagements, schedules commissioning and circumstantial events (as military drills solo or joint) was nearly impossible to filter for a precise assessment. However, moderate judgments have been made. For example, we [continued]
---
CLAIM (Precise): [continued] rejected the idea that a military strike would be conducted by the Strike Group 8 (SG8) commissioned to the area from Norfok, Virginia on Wednesday. That deployment was planned months in advanced and while it could have been activated for the campaign, it would have represented a disproportionate use of military logistics and assets in relationship with the targets. The assets already scattered through the region would have sufficed for a limited military strike. The SG8 holds the potential, manpower and capabilities to annihilate the entire Armed Forces of the Assad regime. Ti was tracking assets for a limited campaign involving air strikes and cruise missiles, not regime change.
OUTCOME: SG8 played no role in the campaign against the Syrian regime, other than deterrence, power projection and cover (press-wise) for the actual assets.
---
The transfer of air assets between U.S. regional basses, as Sigonella, Aviano (Italy) to Incirlik (Turkey) was eye-catching, but internal assessment dismissed the Incirlik Air Base as a possible launch site for the campaign given the political pivot between the Turkish Government, the Assad regime and Russia over the conflict in Syria.

Deployment of fuel tankers towards the Mediterranean from the U.S. and the U.K. was a strong pre-strike logistical indicator. However, it was difficult to dismiss whether those assets were not actually commissioned to support fighter jets on active duty against ISIS/ DAESH within CJTF/OIR.

Starting with Tuesday, the U.S. Air Force began flying 3-4 reconnaissance and electronic intelligence gathering sorties per day, using Boeing Poseidon P-8 planes in the Eastern Mediterranean and focusing on the Syrian coastline. Their path, runtime and some technical details were visible in a number of publicly available air traffic monitoring websites and apps. Deployment of those aircrafts came from the aforementioned U.S. air fields in Italy. UAVs (unmanned aerial-vehicles) as the RQ-4 (call sign "Forte 10") were intensifying surveillance runs and ELINT/IMINT collection about Syrian coastal anti-air defenses. The ISR (Intelligence surveillance and reconnaissance) efforts  were reportedly subjected to Russian Electronic Warfare (EW) jamming measures.

Early last week, the USS Donald Cook has been dispatched to sail in the Eastern Mediterranean after completing a port-call in a Cypriot harbor. Its exact location was unknown due to OPSEC reasons but Ti assessed that its mere presence does not hold the potential for an escalatory capability-build-up in the region or to stage an attack. However, the warship was not ruled out of a possible engagement. Compared to 2017, two warships launched 59 TALMs against the Shayrat Air Base. Ti was looking for more regionally-deployed assets or/ and allied contributions to combine forces.

News of British submarines being deployed in the area, alongside the French multi-class destroyer, Aquitaine, was a strong indication that a percentage of the expected force would be provide by Allies. Intensified activity at the British air base in Cyprus was another strong indication. The Aquitaine was repeatedly buzzed by Russian fighter jets throughout 11-13 April, 2018. 

Ti was monitoring with caution and restraint. There is always the risk that logistical activity and capability deployment can be routine, circumstantial or related to other events: engagement against ISIS/ DAESH within OIR, military exercises with local allies, or troop rotation in U.S. basses in the region For example, a reported and growing U.S. military activity in Jordan was actually due to the upcoming international annually military drill with the Jordanian Army, and had little-to-no connection to a Syrian Strike – as assessed at that time. The evacuation of the Russian Mediterranean Task Force (part of the Black Sea Fleet) based in the Naval Facility in Tartus, was more related to the series of military drills in the Syrian waters (starting with April 11), than an imminent U.S. strike. Regardless that Russian officials had later used the exercises to keep the assets away from impeding danger.

Monitoring a number of publicly available air traffic websites and apps, Ti noticed a complete reduction in commercial flights transiting Syrian airspace – with the exception of the Syrian state-owned ChamWings and affiliated jets, outbound to Tehran (Iran), Baghdad, and Najaf (Iraq). Flights towards the busy Beirut Airport (Lebanon) were re-routed either through Turkey, Egypt or Jordan (and Israel). Kuwait Air Ways cancelled all of their flights to Lebanon.

The main and only shortfall of this assessment, is that Ti largely concentrated on the Eastern Mediterranean region for asset-deployment and build-up due to resource management and operational practicality. It made for sense for TALMs to be launched from the waters just hundreds of km away from the targets, rather than thousands of km. This was only partially fruitful as the following section will detail.
Battle Damage Assessment (BDA) and Operational Layout
On Saturday morning before dawn (April 14, 2018), the US, UK and France launched 105 missiles against the Syrian regime's chemical weapons development and storage assets. The military campaign was limited and sought to reinstate a credible deterrence against the Assad's regime usage of WMDs after crossing the red-line instated by the U.S. unilateral strike from April 2017.

The trilateral force consisting of the US, UK and France was integrated throughout the planning and execution of the operation and employed solely air and naval assets deployed in the Mediterranean basin and the Middle East. The U.S. fired:
 37 (30+7) TLAMs from the Red Sea (USS Monterey and USS Laboon);

23 TLAMs from the Arab Gulf (USS Higgins);

6 TLAMs from the secretive Virginia-class submarines John Warner operating from the eastern Mediterranean;

and 19 JSAAM-ER missiles by a B-1b Strategic bomber coming from Al-Udeid Air base (Qatar) via Jordan. The B-1b's Defensive Counter Air (DCA) escort was provided by F-16Cs, F-15Cs  and advanced F-22 Raptors armed with air-to-air missiles and the counter-EW capable EA-6B Prowler from the U.S. Marines Corps. This marked the first use of the Joint Air-to-Surface Standoff Missile-Extended Range (JASSM-ER) in combat. 
The British Typhoon and Tornado fighter jets fired 8 Storm Shadow air-launched cruise missiles into the Homs facility, alongside the French Rafale/ Mirage jets that activated 9 SCALP missiles. British and French jets flew from the Royal Air Force (RAF) in Akrotiri, Cyprus;  

The French Navy also fired a number of their indigenous equivalent of the TLAM, namely the Missile de Croisière Naval (MdCN);

From the total of 105 strikes, 76 missiles were concentrated fire on the Barzeh Scientific Research Center.
JUST IN: Periscope video of US submarine John Warner launching 6 Tomahawk missiles into Syria https://t.co/lo9JMIVmtM

— Lucas Tomlinson (@LucasFoxNews) April 14, 2018
The targets that were struck and destroyed were specifically associated with the Syrian regime's chemical and biological weapons program. The targets were also selected to minimize and reduce risk of civilian and foreign (Russia, Iran) losses. The first target was the Barzeh Scientific Research Center (Rural Damascus province) that developed, produced and tested biological and chemical weapons technology. The second and third targets were both located in Him Shinshar, Homs province – consisting in a command & control center that contained a Chemical Weapons (CW) storage site and bunker. All of the targets have been successfully and accurately destroyed. The military operation was a success.

The only retaliatory fire came from the Syrian regime's anti-air defenses which fired around 40 surface-to-air missiles (SAMs) at the incoming strikes. Russia had not activated its military infrastructure deployed in Syria due to technological secrecy and political reasons. US, British and French delivery assets didn't require entering Syrian airspace as the missiles have a generous range that allowed them to be launched from hundreds of km away. Therefore, fighter jets, ships and bombers were not subjected to Syrian counter-measures. The Syrian regime and Russia claim to have shot down a number of TLAMs.
Despite Russian and Syrian claims, it is highly unlikely that Syrian anti-air defense were able to shot down the incoming missiles. Neither Damascus nor Moscow, either officially or via disinformation campaign did not present prove of wreckage, debris or remnants of TLAMs. The significant gap in Syrian S-200 capabilities and Western technology is irreconcilable. The TALMs can change course and speed in mid-air being able to easily evade Soviet-era defense systems, and its size and nature make it difficult for even advanced anti-air weapons to track and intercept them. On the other hand, as the Syrian SAMs were fired but did not hit their targets, there is no information on where those SAMs have fallen. Their impact is worrying given the highly-populated areas of Damascus. There is also no confirmation of the reported use of Russian Electronic Warfare (EW) capabilities nor of their potential impact on the joint American-British-French operation. 

Time will tell whether the limited retaliatory strike on Syria manages to completely deter the Assad regime from using chemical weapons in the future. The military operation was a success, but Ti assess that the losses and damage inflicted on the CW infrastructure were too superficial and came too late for them to degrade these kinds of Syrian capabilities. Damascus had almost a week to conduct pre-damage control and evacuate assets, personnel and data. Employment of SAMs still suggest that targets were relevant enough to (try to) defend, but far from having any strategic impact. The tactical scratches inflicted were solely purposed to echo a strong political message to the Assad regime, and not to severely inflict military losses as a way of containing conflict escalation.
---
by HARM
Founder of T-Intelligence. OSINT analyst & instructor, with experience in defense intelligence (private sector), armed conflicts, and geopolitical flashpoints.