Russia has deployed military aircraft to Libya to support General Haftar's self-styled Libyan National Army (LNA), Imagery Intelligence (IMINT) from the United States Africa Command (US AFRICOM) shows. The new intelligence confirms claims, previously made by the Government of National Accord (GNA) in Tripoli, that Haftar is receiving aerial reinforcements from Russia. 
Recently, the LNA has been caught on their heels by the GNA. Backed by Turkish airpower, the GNA has forced the LNA out of strategic positions in northwestern Libya. The GNA's successful offensive and Turkey's aerial onslaught have marked the most significant setback for Haftar yet. The Russian intervention aims to tip the balance back into the LNA's favor. 
FROM RUSSIA WITH LOVE: A FOURTH GENERATION PACKAGE
The flock of Russian fourth-generation aircraft deployed to Libya consists of at least four MiG-29 multi-role fighters (NATO Reporting name: Fulcrum) and an unknown number of Su-24 (Fencer) and Su-34 (Fullback) fighter-bombers. Two Su-35 air superiority fighters (Flanker-E) of the Russian Aerospace Forces (RuAF) provided counter-air escort for the formation. 
Flock of Russian birds en route to #Libya from #Syria: MiG-29 multi-role fighters(Fulcrum), and Su-24 (Fencer) & Su-34 (Fullback) fighter bombers. Package escorted by Su-35 (Flanker-E)

Most jets if not all are likely at al-Jufra AB. Likely, 18 May was the date of the operation. pic.twitter.com/oo205BXhe6

— T-Intelligence (@T_intell) May 26, 2020
The aircraft first relocated from Astrakhan (Russia) to Hmeimim Air Base near Latakia, Syria with a stopover at Hamadan Air Base Iran) to refuel on 12 and 14 May.
#PT they went from Astrakhan to Syria in two batches on 12 and 14 May 2020, refueling in Iran at Hamadan AB https://t.co/WzsXXOZApB

— Samir (@obretix) May 26, 2020
At Hmeimin Air Base, they received a new paint job to camouflage their origin and refueled before continuing to Libya on 18 May.
When they entered Libyan airspace, the unmarked Russian aircraft made another refueling stop near Tobruk. They then resumed their journey to al-Jafra Air Base on the same day. At least 14 unmarked Russian aircraft were delivered to al-Jafra using this air bridge, according to US AFRICOM. 
They are flown by Russian military members & escorted by Russian fighters based in Syria to Libya, landing in Eastern Libya near Tobruk for fuel. At least 14 newly unmarked Russian aircraft are then delivered to Al Jufra Air Base in Libya. (2/2) pic.twitter.com/bB9g66pVUc

— US AFRICOM (@USAfricaCommand) May 27, 2020
On the next day, satellite imagery showed a MiG-29 Fulcrum on the taxiway of the LNA-held al-Jafra Air Base. The geospatial imagery prompted extensive speculations regarding the ownership of the aircraft on social media. Some claimed that the MiG-29 is a RuAF jet. Others argued that the United Arab Emirates bought it from Belarus for Haftar's air wing.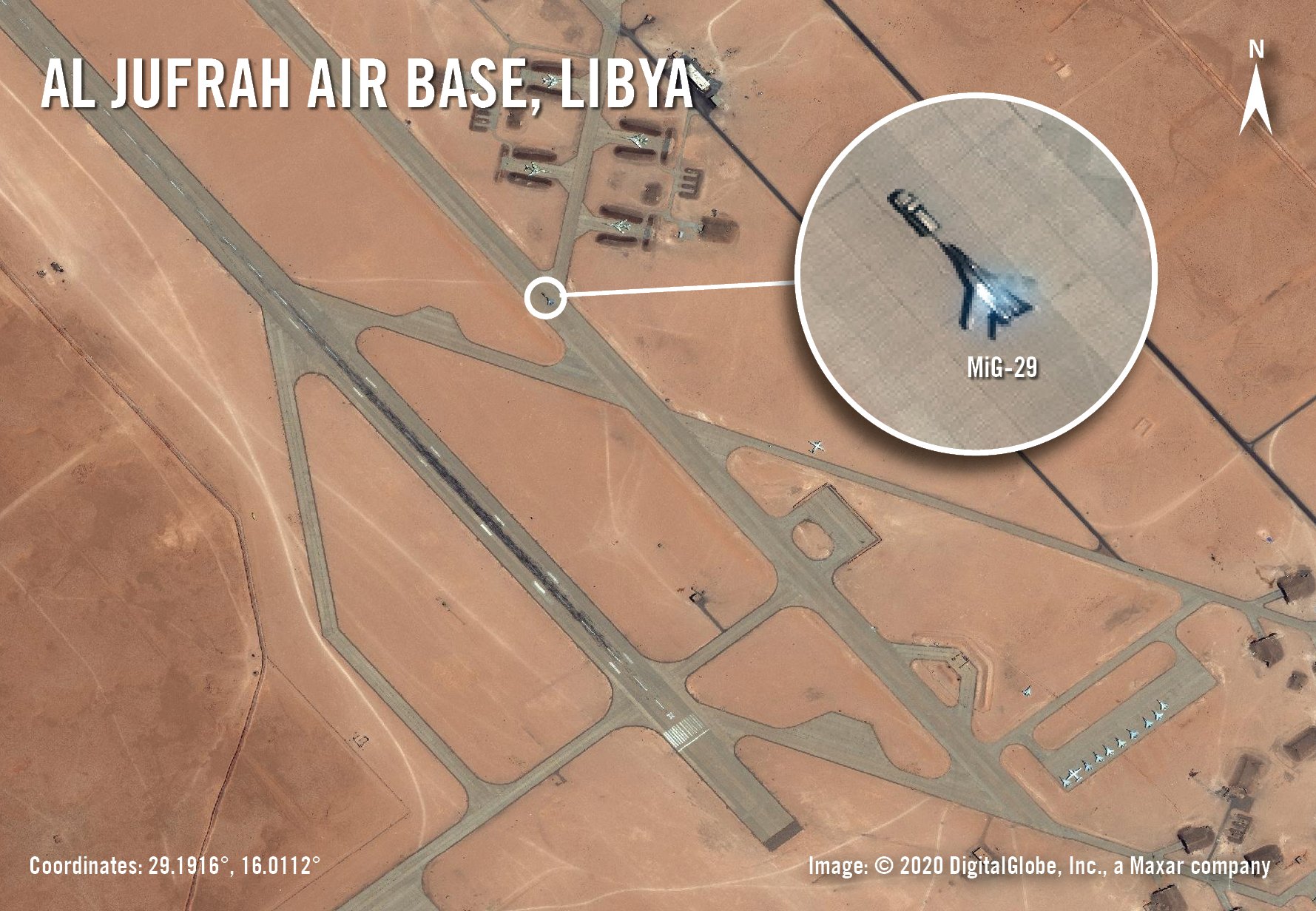 While we know that the aircraft belong to the RuAF now, it is still unknown who will operate them. Faced with a massive shortage of trained personnel, the LNA has previously hired mercenary pilots for its legacy Su-22s and MiG-23s. Fourth-generation fighter jets are nevertheless a completely different league. Even the most experienced pilots require months of training to master these machines. While Russia may have sent pilots, the Kremlin traditionally prefers to operate in the shadows. Russia makes extensive use of state-backed private military corporations (PMCs) and irregular forces to do dirty work overseas instead. 
STATE-BACKED MERCENARIES 
It is noteworthy that US AFRICOM specifically identified the "Wagner Group" PMC as the primary beneficiary of Russia's new air power in Libya. While the Russian government has never officially acknowledged the existence of Wagner, the PMC has been the go-to choice of the Russian Military Intelligence (GRU), when it comes to outsourcing politically sensitive external operations. Wagner is known for fighting in Eastern Ukraine, Syria, the Central African Republic (CAR), Sudan, Libya, and other countries. 
---
The article was updated to include the latest information released by US AFRICOM on 27 May 2020.
Latest posts by Incident Response Team
(see all)