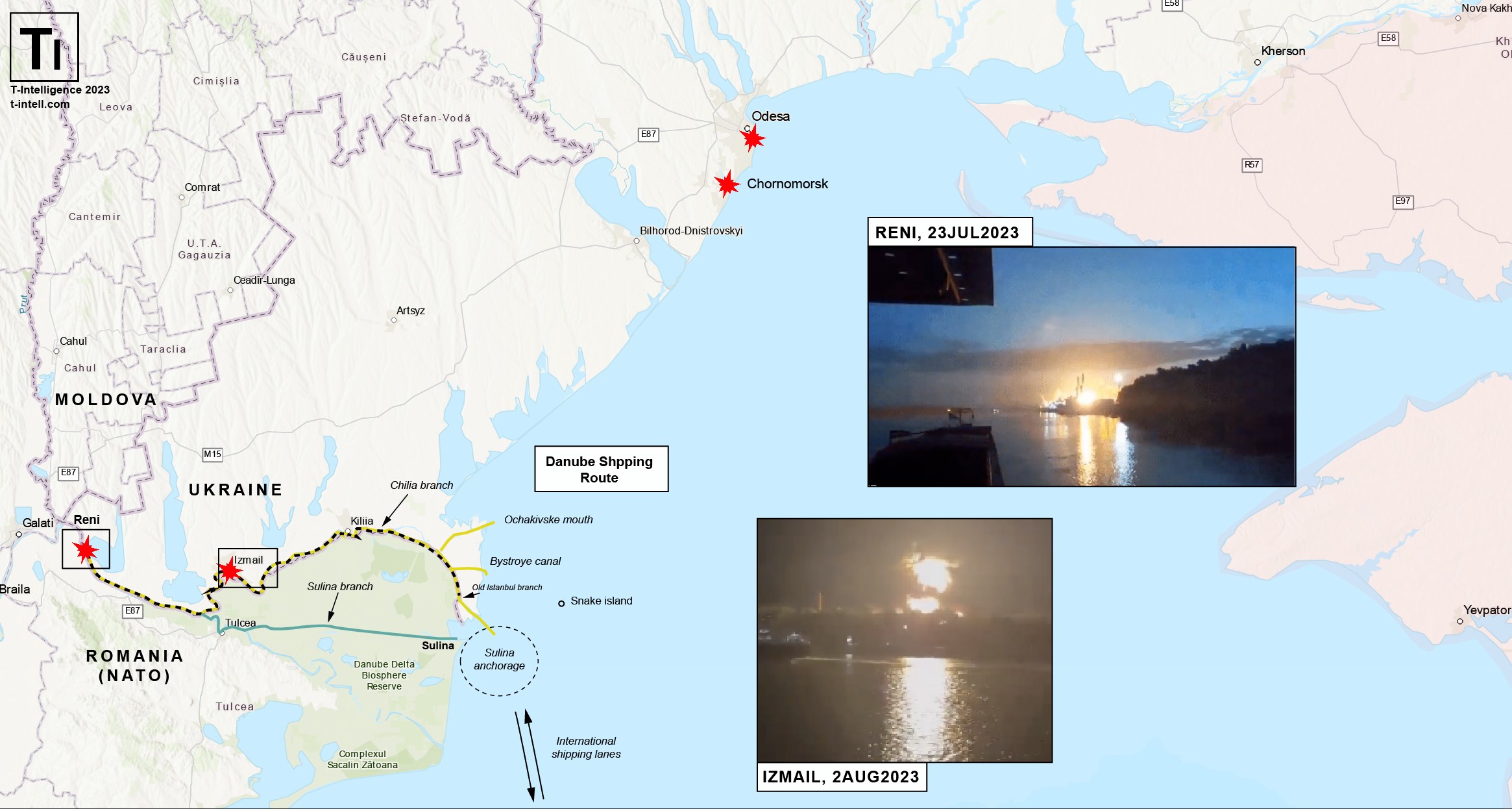 KEY JUDGEMENTS
Russia's missile and drone attacks against Reni and Izmail marked the first strikes on Ukraine's Danube ports since the full-scale invasion began on 24 February 2022. 

The attacks are part of a new Russian campaign to degrade Ukraine's ability to export agricultural goods and destroy grain stocks. They also seek to deter merchant ships from facilitating the export of Ukrainian grain and other foodstuffs through the Danube route. 

The Danube is the last maritime export route out of Ukraine after the Black Sea Grain Initiative (BSGI) expired on 17 July 2023, and Russia refused to extend it. Considered relatively safe for shipping, the Danube route is experiencing an increase in its risk profile following the latest attacks. 

For increased port protection, Ukraine needs to redirect more short-range air defenses (SHORAD) to Reni and Izmail. Rerouting traffic to and from Reni and Izmail through Romanian waters in the lower Danube and Sulina branch can mitigate the risk of Russian attacks against ships in transit. However, this could result in longer waiting times. 
RUSSIA ESCALATES ATTACKS ON UKRAINIAN PORTS IN THE DANUBE
RUSSIA TARGETS RENI AND IZMAIL
The attacks on Reni and Izmail are part of a wider campaign against Ukrainian ports, focused on Odesa and Chornomorsk, that Russia initiated on 18 July 2023 following the expiration of the BSGI. The objectives of the new campaign are to further suffocate Ukraine's economy by degrading the country's grain stocks and ability to export. In addition, Russia seeks to discourage merchant ships from facilitating the export of Ukrainian foodstuffs.
Reni was the first Ukrainian Danube port to come under Russian attack on 24 July. Shahed-136 one-way attack drones (OWAD) destroyed at least two grain warehouses belonging to Trans Expo and damaged port infrastructure, such as docking facilities and the container terminal owned by Reni Oil (owned by Kernel Group). 
Debris reached the Maltese-flagged Akomena, which was docked in port, and the Romanian-flagged Speranta El. Around 60,000 tonnes of grain were wasted as a result of the attack. Shahed drones also hit Izmail on 24 July albeit to a lesser extent.
Izmail suffered its first major attack on 2 August. The attack destroyed a cargo elevator, a fuel storage unit, and grain silos belonging to the Danube Shipping Company. Around 40,000 tonnes of grain were wasted as a result of the attack.
The mayor of the nearby Romanian village of Ceatalchioi said a drone overflew Ceatalchioi during the attack on Izmail and that it crashed in a forest in Romania. He also said the remains are unlikely to be recovered, given the swampy nature of the area. The claimed airspace violation was refuted by the Romanian Ministry of National Defense.
Romanian President Klaus Iohannis called Russia's attacks on Ukrainian ports a war crime. 
DIRECT ATTACKS ON SHIPPING POSSIBLE
The recent strikes on Reni and Izmail could be a prelude to direct attacks on maritime shipping in the Black Sea. The attacks in the Danube mark a clear escalation in Russia's campaign against Ukrainian ports, which could continue to grow. 
The Kremlin may greenlight direct attacks on shipping if it assesses that it failed to disrupt sufficient traffic to and from Ukraine's Danube ports. Moscow has already threatened to attack maritime shipping approaching Ukrainian ports on 18 July. As a demonstrative and ominous action, the Russian Black Sea Fleet (BSF) sunk the former Ternopil corvette, captured from Ukraine in 2014, in an anti-ship exercise in the northwestern Black Sea on 21 July 2023.
Russia has previously attacked maritime shipping at the onset of the full-scale invasion of Ukraine, but without claiming responsibility. The Panama-flagged Namura Queen, Moldovan-flagged Millenial Spirit, and Marshal Island-flagged (Turkish-owned) Yasa Jupiter are some of the vessels attacked in the northwestern Black Sea between late February and early March 2022. 
INCREASED IMPORTANCE OF THE DANUBE ROUTE
The Danube route refers to a series of shipping lanes linking the northwestern Black Sea to ports in the Danube river branches. Of particular importance is Chilia/Kiliia branch, which serves as a borderline between Romania and Ukraine. Notable ports in the Chilia branch are Reni, Izmail, and Kilia on the Ukrainian side and Giurgiulești in Moldova.
The Danube route has been in heavy use since the beginning of the full-scale invasion on 24 February 2022. Shipping through the Danube increased after Ukraine liberated Snake Island in July 2022 and re-opened the Bystroye Canal, which allowed traffic to and from Odesa to flow through the Danube mouths.
The Danube route was deemed relatively safe for shipping and economic activity due to its proximity to NATO-defended territory. The Chilia and Old Istanbul branches are a shared Ukrainian-Romanian boundary that narrows to 200 to 400 meters in some areas. This leaves little room for navigation errors or malfunctions for Russian munitions if Moscow wants to avoid accidentally hitting a NATO state. 
In addition, seafarers can enjoy the safety of NATO-defended Romanian waters on their way in and out of the Danube. Exceptions are the Bystroye canal and the southern tip of the Old Istanbul branch, which are exclusive Ukrainian territory. 
The importance and risk profile of Reni and Izmail for Ukraine's agriculture exports has skyrocketed after Ukraine's Black Sea ports came under renewed Russian attacks following the BSGI expiration. 
RISK REDUCTION FOR THE DANUBE ROUTE
SULINA DETOUR CAN MITIGATE RISK OF TRANSIT ATTACKS
To mitigate the increased risk, Romanian authorities are allowing more and more merchant vessels to exit the Danube through a detour via the lower Danube and the Sulina branch. 
The head of Romania's Lower Danube Fluavial Administration (Administratia Fluviala a Dunarii de Jos/ AFDJ), Florin Uzumtoma, said they are working to decongest the Danube traffic stuck in Reni and Izmail following the recent attacks. He said their focus is now to exit merchant ships via Sulina before accepting inbound traffic. 
On 3 August, the AFDJ processed around 13 ships through the Sulina corridor and expects to let 16 more pass on 4 August. The AFDJ authorized the passing of 477 ships to and from Ukraine per month in May and June, in what Uzumtoma described as peak traffic. He expects a similar number to emerge in August as well. 
Note that the Sulina route, like all Danube mouth seaways, has limited capacity regarding how many ships can pass through per day and the tonnage that can transit these waters. This results in long waiting times and delayed shipping schedules. 
AIR DEFENSES NEEDED TO PROTECT DANUBE PORTS FROM ATTACKS
Ukraine's Danube ports require more short-range air defense (SHORAD) systems to provide fixed protection from drone and missile attacks. Some SHORADs are positioned around Reni and Izmail as eyewitness videos showed anti-aircraft fire lighting up the sky during the attacks. However, they are likely not enough. 
Significant reinforcements are unlikely in the short term due to Ukraine's overall SHORAD scarcity. These systems are in high demand nationwide, especially in the counteroffensive area in Zaporizhzhia. More SHORAD deliveries from the West are pledged and expected to come in the next months, but this still leaves the issue of limited ammunition unsolved.    
Romania should also push SHORADs towards the Danube mouth and maintain high readiness to intercept attacks. Should Russia's attacks on Ukrainian Danube ports continue, it is likely only a matter of time before stray drones or missiles officially land on the Romanian side. Early warning via allied sensors will also play a key role in successfully preempting such incidents. 
MAINTAINING FREEDOM OF NAVIGATION AND TRADE
Western military intervention could be required to safeguard freedom of navigation in international waters and those controlled by NATO members. Such an effort would need to be multinational, likely spearheaded by Black Sea states such as Turkey, and involve elements from land, air, and naval domains. The U.S. Navy's P-8 Poseidon maritime patrol aircraft, RQ-4 Global Hawk drone, and other aircraft operate daily in theater and could swiftly be re-tasked to focus on monitoring international shipping. 
These assets can also be easily integrated into a wider coalition with Romanian, Bulgarian, and Turkish assets and extra-regional allies with pre-positioned capabilities to kick-start a robust shipping protection mission. However, an important stepping stone in this direction would be for Romania to take a more proactive stance in condemning Russia's operations on its border, including through the activation of Article 4, which calls for consultations between NATO allies. 
Western support for Ukrainian intelligence, surveillance, target acquisition, and reconnaissance (ISTAR) should continue as Kyiv prepares to unleash a campaign against Russian patrol ships. Ukraine is ready to make increased use of its unmanned surface vessels (USVs), unmanned aerial vehicles (UAVs), and coastal batteries to keep Russian warships at arm's length from the northwestern Black Sea. The 4 August attack by a Ukrainian USV on a Russian Ropucha-landing ship, "Olenegorsky Gornyak," near Novorossiysk is indicative of Ukraine's resolve. 
These measures should prevent the Russian Navy from illegally boarding and seizing merchant ships or attacking them with close-in weapons. However, most anti-ship missiles can be fired from stand-off range which presents a continued risk to shipping. 
A strong political-military signal is required to keep international shipping in the Danube route from declining. Both shipping companies and insurers have shown openness to facilitating trade to and from Ukraine in the past 16 months despite the high risks posed by sea mines, collateral damage, or deliberate Russian military attacks. 
Russia has no legitimate claim over the international waters in the Black Sea, nor does it have any right to interdict shipping in the northwestern Black Sea. In addition, attacking merchant ships could constitute a war crime. The further disruption of grain shipments will have dramatic consequences in developing countries and for the overall grain market. 
Complying with Russian coercion will only encourage Moscow's aggressive behavior. 
---
by Vlad Sutea
Founder of T-Intelligence. OSINT analyst & instructor, with experience in defense intelligence (private sector), armed conflicts, and geopolitical flashpoints.