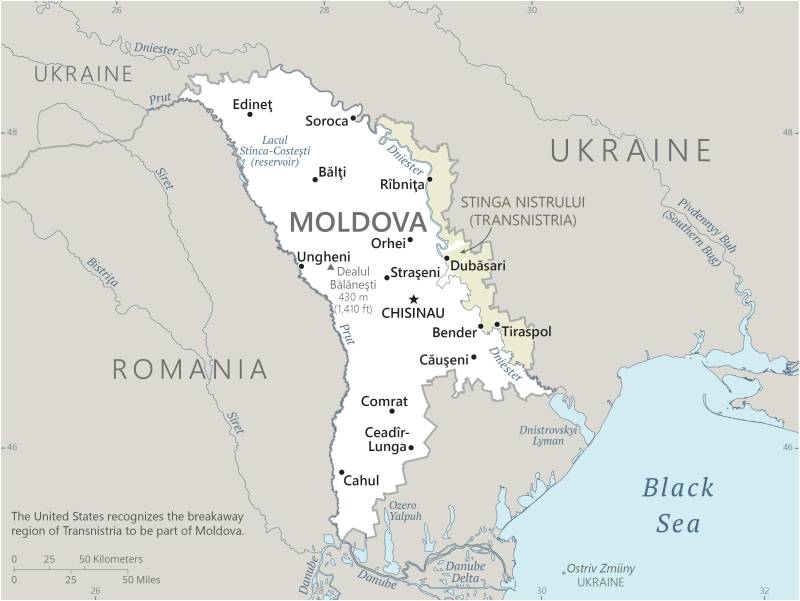 The Moldova/Transnistria Situation Reports (SitReps) are a response to the intelligence obtained by Ukraine and Moldova indicating that Russia plans to overthrow the democratically elected government in Chișinău and maintain the threat of Transnistria high for Ukraine. Drawing from open-source information (OSINF), the newsletter will provide periodic updates on security-relevant developments and analysis. See previous sitreps under the dedicated Moldova & Transnistria section on T-Intelligence and Linkedin, and our threatcast on a possible Russian operation to link up with Transnistria. 
---
KEY JUDGEMENTS
A Moldovan train carrying grains to the Ukrainian port of Reni in the Danube derailed while transiting Găgăuzia (Moldova) in early August. Authorities blame the outdated railway and high temperatures. However, given the timing, we have earmarked this incident as an event of interest, suspecting Russian sabotage. The incident coincides with Russia's air campaign against Ukrainian grain exports, which includes a strike on the Danube ports of Reni and Izmail.

Moldova continued to engage with Ukraine and Romania, focusing on bolstering energy security and infrastructure development. Additionally, Moldova's recent agreement with Israel may have long-term intentions, potentially aiming to secure the extradition of the Israeli-Moldovan oligarch, Ilan Șor.

In retaliation for Moldova's decision in July to reduce personnel at the Russian embassy in Chișinău, Russia barred the entry of 22 Moldovan diplomats into its territory.

Găgăuz National Assembly Chairman Dmitri Constantinov raises the possibility of Găgăuz independence, suggesting this may become subject to parliamentary debate in September. Tensions between Comrat and Chișinău are likely to increase in intensity. 
---
AUGUST 1-31 SITREP
FOREIGN RELATIONS
A trilateral meeting between Moldova, Ukraine, and Romania is in the planning stages, focusing on cooperation in the energy supply security sector. Moldovan Energy Minister Victor Parlicov's statements following a meeting with Ukrainian Energy Minister German Galushchenko in Kyiv indicate the forthcoming discussion on 23 August 2023. 
Moldovan Prime Minister Dorin Recean discussed with Ukrainian Prime Minister Denis Shmyhal on 23 August 2023. They reaffirmed their commitments to bolster bilateral projects in economy, energy, agriculture, infrastructure, and transportation. A significant focus of the discussion was the improvement of road and railway infrastructure (Solidarity Coriddors Initiative), which are used to transport Ukrainian grain to the Danube ports of Giurgiulesti, Reni, and Izmail. Last month, Ukraine and Moldovan signed an agreement to build a new bridge over the Dnipro River linking Cosăuți and Yampil (Ukraine), with an expected completion date of 2025. 
Moldova joined the European Union in imposing sanctions against Iran due to Iran's military support for Russia on 15 August. These sanctions restrict the export of components used in drone development to Iran, including travel bans and asset freezes for individuals involved in Iran's drone production program.
Moldovan President Maia Sandu met with a delegation from Israel, led by Minister of Foreign Affairs Eli Cohen, on 8 August. Discussions encompassed various aspects of the bilateral agenda, including economic cooperation, anti-corruption efforts, and agreements related to legal cooperation and the exchange of driving licenses.
President Sandu encouraged speeding up the signing of the bilateral agreement on civil and criminal legal cooperation, which the Moldovan and Israeli Justice Ministries are preparing. Moldova likely seeks closer ties with Israel as part of a longer game to secure the extradition of Ilan Șor, the Israeli-Moldovan oligarch hiding in Israel. The Moldovan press release and President Sandu's focused remarks hint strongly at this desire. 
The Moldo-Israeli meeting also extended an agreement on the temporary employment of Moldovan workers in Israel and the exchange of driving licenses. Moldova and Israel aim to launch direct flights between the two countries to support tourism and investment. Further agreements will be signed in the future in various other fields. 
Prime Minister Dorin Recean held a meeting with a delegation from the Armed Services Committee of the U.S. House of Representatives on 4 August. The U.S. delegation included Doug Lamborn, Nancy Mace, and Seth Moulton. Discussions focused on U.S. support for Moldova, development projects, and regional security, particularly in the context of the Russian invasion of Ukraine. 
DEFENSE MODERNIZATION
Moldovan National Army (MNA) Commander Brigadier General Eduard Ohladciuc received the visit of Chinese Ambassador to Chișinău Yan Wenbin, and defense attache Colonel Tian Wei, on 3 August. They discussed military cooperation between Moldova and China, the MNA's modernization and reforms, and "other regional security" issues, hinting at the Russian invasion of Ukraine. 
Brg. Gen. Ohladciuc thanked the Chinese side for the scholarships offered to Moldovan officers over several years, as part of Beijing's assistance to expand the MNA's knowledge in the field. 
Little is known about the Moldovan-Chinese defense cooperation, but the engagement so far has been minimal and discrete. However, China may be interested in playing an active role in the MNA's modernization through training and affordable arms sales. However, this is unlikely to bear fruit for Beijing as Moldova is strategically assisted by the United States, United Kingdom, Germany, and Romania in its procurement choices and training program. 
U.S. donated undisclosed military equipment to the MNA on 2 August. The military package contained U.S.-made equipment and was airlifted to Chișinău airport. The American donation came in the context of the MNA's modernization in the context of a 2019 agreement. The Moldovan Ministry of Defense said the equipment batch will increase the defense capabilities of Moldova. 
DOMESTIC AFFAIRS
Dmitri Constantinov, the president of the People's Assembly of the Gagauz-Yeri Autonomous Territorial Unit, hinted at the potential creation of a Gagauz republic, on 22 August. Constantinov cited perceived neglect of Gagauz autonomy by central Moldovan authorities and mentioned an upcoming assembly of local authorities on September 9 where this subject may be addressed.
Russia is virtually certain to instigate, support, and inflame Gagauz separatism as part of its campaign to control Moldova. If Moscow cannot control Chișinău directly, further fragmenting Moldova is a likely alternative.

T-Intelligence has long suggested that Gagauzia bears potential for "a second front," aside from Transnistria, for Russia's hybrid war against Moldova. 
The Government in Chișinău adopted a resolution aimed at integrating Transnistrian economic agents into the single economic space of the Republic of Moldova on 14 August. The document calls for the "regulation of the circulation of goods and services that constitute the objects of foreign economic activity of economic agents in the Transnistrian region, as well as the provision of electronic communication networks and services by them." Accordingly, Chișinău is proposing the term "temporary registration," which refers to the registration of economic agents from the Transnistrian region in the State Register of Legal Entities of the Republic of Moldova. Tiraspol lashed against this resolution, calling an attempt to strip Transnistria of its special status. 
A Moldovan train carrying grain to the Ukrainian port of Reni derailed in Găgăuzia, arousing suspicion of sabotage, on 5 August. Six of the 61-grain wagons derailed in the Culma – Ceadîr-Lunga railway sector in Moldova's Autonomous Territorial Unit Găgăuzia. The official preliminary assessment is that the train derailed due to the extreme temperatures and outdated infrastructure, which is a plausible explanation. 
Given the regional context, namely Russia's first strikes on Ukraine's Danube ports, including Reni (23 July), this incident should be carefully scrutinized. Sabotage by Russian assets or agents is possible, especially given the wider context. However, no supporting evidence has come to light so far. Nevertheless, if the derailment were the result of Russian sabotage, the government in Chișinău would have most likely publicized this information as part of its effort to draw international attention to Moldovan security and the Russian threat. 
TRANSNISTRIA & RUSSIA
Russia banned 20 Moldovan officials, including 18 MPs of the Action and Solidarity Party, from entering its territory on 18 August. The ban comes as a response to Moldova's prior decision to reduce the staff of the Russian embassy in Moldova. The Moldovan Ministry of Foreign Affairs and European Integration described the Russian ban as "regrettable."
Moldovan Reintegration Bureau called on Transnistria to cease its practice of preventing Moldovan farmers from accessing their farmlands on 7 August. The PMR stands accused of violating a series of agreements that guarantee free movement, preventing Moldovan farmers from Dubasari from harvesting their crops. Transnistrian authorities delay the issuing of permits for the transportation of seeds, pesticides, mineral fertilizers, and other products needed for agricultural works. In addition, Transnistrian guards set up new checkpoints and charge payments for farmers to pass. 
Prime Minister Recean met today with OSCE Special Representative for the Transnistrian settlement process Thomas Mayr-Harting in Chișinău on 2 August. Attending the event were also Moldovan Deputy Prime Minister for Reintegration Oleg Serebrian and the Head of the OSCE mission to Moldova, Ambassador Kelly Keiderling. They discussed the security situation in Moldova and the region, including Transnistria. 
---
by Vlad Sutea and Will Kingston-Cox