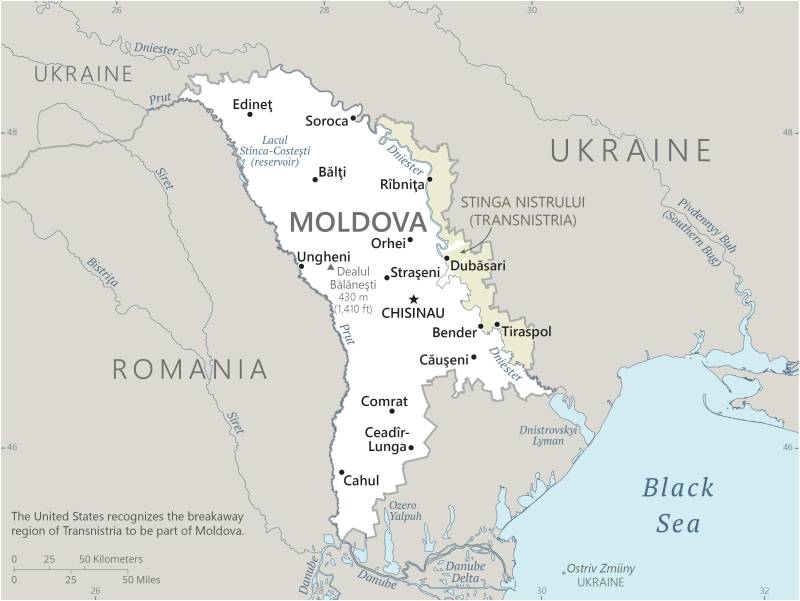 The Moldova/Transnistria Situation Reports (SitReps) are a response to the latest intelligence that Russia plans to overthrow the democratically elected government in Chisinau and maintain the threat of Transnistria high for Ukraine. Drawing from open-source information (OSINF), the newsletter will provide periodic updates on security-relevant developments and analysis. (see previous updates: five, four, three, two, and one + our T-Intelligence threatcast on Russian military intentions to link up with Transnistria).
Subscribe and share the newsletter with your connections and friends who are interested in the deteriorating security situation around the Prut and Dnister rivers.
KEY JUDGEMENTS
1. There has been no increase in risk for Moldova since the last update. There were no signs of escalation or serious incidents between Moldova, Transnistria, and Russia in May 2023.
2. Moldova continues to make great strides in European integration and capacity building – e.g., cybersecurity and counter-disinformation – against Russian-backed destabilization efforts. The European Union pledged new financial assistance to Chișinău and sanctioned five individuals, including Ilan Șor (trsl. Shor), engaged in subverting Moldova's democracy.
3. The so-called Pridnestrovian Moldavian Republic (PMR), or Transnistria, extended its "terrorist threat level yellow" for another 60 days. In addition, the PMR representative to Moscow called on Russia to deploy more troops to Transnistria. However, there are practical reasons why Moscow could not fulfill such a request.
4. Despite accusations of electoral irregularities, the pro-Russian Șor Party was validated as the winner of the gubernatorial race in Găgăuzia. As anticipated, the new governor is already pushing for more autonomy from Moldova. This objective is aligned with Russia's ideal vision of a federalized Moldova where Comrat (seat of Găgăuzia) and Tiraspol dictate the country's geostrategic alignment.
SITREP (1 May – 1 June 2023)
EU sanctions individuals subverting Moldova's democracy
The European Union (EU) imposed sanctions on high-profile individuals, including Ilan Șor, involved in subverting democracy in Moldova and spearheading Russian interests. Published on 30 May, the EU document sanctions the following persons who will face travel and financial restrictions:
Ilan Mironovich Șor (Șor party leader). Ilan Șor is sentenced to 15 years of imprisonment in the "Bank Fraud" case and stands accused of illegal electoral financing, incitement to political violence, and attempting to subvert democracy in Moldova. Ilan Șor currently resides in Israel, evading arrest.
Gheorghe Petru Cavaliuc (President of the "Building Europe at Home Party" and former Deputy Head of the General Police Inspectorate). An ally of Ilan Șor, Cavalier is known for having co-organized violent protests in October 2022. Cavaliuc leveraged his police connections to recruit former officers and create a paramilitary group to "protect" violent demonstrators. He has also established a "shadow government" that stands ready to replace the democratically-elected government in Moldova.
Marina Tauber (Deputy leader of the Șor Party). Tauber is also charged in the "Bank Fraud" case and is subject to criminal investigation in two criminal cases related to illegal financing.
Igor Yuryevich Chaika (Russian businessman). Igor Chaika is responsible for funneling money in support of the Russian Federal Security Service (FSB) operations to destabilize Moldova. As stated in the EU report, Chika "played the role of Russian 'purse', channeling money to FSB assets in the Republic of Moldova in order to bring the country under the control of the Kremlin."
Vladimir Gheorghe Plahotniuc (Moldo-Romanian-Russian businessman). A long-time political "kingmaker", Plahotniuc is subject to numerous criminal proceedings in Moldova related to embezzlement of state funds and other crimes.
Moldova's European integration and the EPC summit
Moldova hosted the second summit of the European Political Community (EPC) at Mimi Castle in Bulboaca, Moldova, on 1 June 2023. The event was hosted by Moldovan President Maia Sandu and brought together 45 heads of state or government, alongside the President of the European Council, the President of the European Commission, and the President of the European Parliament. Ukrainian President Volodymyr Zelensky also participated and held a tet-a-tet meeting with President Sandu.
A British SIGINT/ELINT aircraft flew an unprecedented mission over Moldova during the EPC summit. The Royal Air Force RC-135W likely monitored Transnistrian and Russian communications in search of electronic indications of an imminent threat to the venue. British RC-135Ws have operated almost daily in Romanian airspace and over the Black Sea for the past few years.
EU Commission President von der Leyen announced a new EU support package for Moldova during a joint press conference with President Maia Sandu on 31 May. The package includes initiatives such as reducing roaming charges between Moldova and EU countries, providing additional economic support through investment and economic plans, as well as increasing the allocation of funds to support Moldovan companies. The EU has provided almost one billion euros to Moldova, with an additional €600 million planned.
The Council of the European Union has decided to nearly double the amount of macro-financial assistance provided to Moldova, increasing it from the initially agreed €150 million to €295 million. This decision was made at a meeting in Brussels on 30 May. The assistance includes loans and grants to support Moldova's economic stabilization and aligns with the country's request for support, along with the IMF program.
Moldova strengthens counter-disinformation and cybersecurity resilience
President Sandu announced a new draft of legislation to create an institution to counter misinformation and propaganda on 29 May. The proposed National Center for Information Defense and Combating Disinformation and Propaganda, symbolically called PATRIOT, will coordinate the state's policy on information security and combating disinformation at all levels. The draft bill will be sent to Parliament by the end of June.
The proposed PATRIOT institution is a much-needed measure to build up Moldova's resilience against informational threats, which are Russia's main vector of attack in Moldova. The organization should also unify and expedite the government's response to propaganda attacks or other active measures.
The EU Council launched the EU Partnership Mission in Moldova (EUPM Moldova) under the Common Security and Defense Policy (CSDP) to enhance the country's security resilience on 22 May. Established at the request of Chișinău, the mission intends to strengthen the Moldovan government's crisis management structure, enhance its resilience to hybrid threats, and counter foreign information manipulation and interference (FIMI).
Moldova adopted a law to strengthen cybersecurity in public sector organizations and critical infrastructure on 12 May. The new legislation was primarily developed by the Moldovan Ministry of Economic Development and Digitalization with assistance from the Estonian e-Government Academy (eGA). The Moldo-Estonian cooperation was enabled by the EU's Rapid Cybersecurity Assistance project for Moldova. The legislation will come into force on 1 January 2025.
Moldovan internal affairs
The Moldovan government has taken several significant steps to combat corruption in the country. On 25 May, the Parliament of Moldova adopted a law on the integrity of public servants, which aims to prevent conflicts of interest, ensure transparency, and hold officials accountable. The law introduces mandatory asset declarations for public servants, strengthens the powers of the National Integrity Authority, and establishes mechanisms for the verification of officials' wealth. These measures are part of the government's broader anti-corruption agenda, which seeks to root out corruption and promote good governance in Moldova.
Over 75,000 people participated in the "European Moldova" pro-European rally in Chișinău on 21 May. The rally sought to demonstrate popular support for the the government in Chișinău and Moldova's European integration. It also served as a counter to the recent, but smaller, anti-governmental protests orchestrated by the Șor Party.
Romania and Moldova initiated an 85.9 million euro ($92.9 million) program aimed at financing projects to benefit the border communities of both countries on 19 May. The joint program, which received €77.3 million in non-refundable European funds and €8.6 million as national contributions, will cover projects along the entire border territory of Moldova and in Romania's border counties of Iași, Vaslui, Botoșani, and Galați. To qualify for funding, projects must have at least one partner from each member state.
The United States and Moldova signed an Open Skies agreement on 18 May. This agreement establishes a modern civil aviation relationship between the two countries, allowing unrestricted capacity and frequency of services, open route rights, a liberal charter regime, and open code-sharing opportunities. The agreement will enhance economic and commercial partnerships, promote people-to-people ties, and create new opportunities for airlines, travel companies, and customers. It also emphasizes high standards of aviation safety and security.
Moldovan Prime Minister Dorin Recean announced on May 16 that Moldova is no longer dependent on natural gas or electricity imports from Russia. Moldova has successfully integrated into the European energy network, both technically and commercially. Previously, 100% of the energy consumed in Moldova originated from Russia. This achievement enhances Moldova's energy security and aligns with its integration into the European energy market.
The European Commission proposed extending the suspension of import duties and quotas on Moldovan exports to the EU for another year. This measure, known as Autonomous Trade Measures (ATMs), demonstrates the EU's support for Moldova's economy and helps mitigate the impact of Russia's military aggression against Ukraine. Most Moldovan exports to the EU already enjoy duty-free access, and the ATMs have positively affected Moldova's trade with the EU, contributing to increased exports from €1.8 billion in 2021 to €2.6 billion in 2022.
Moldovan National Army receives new kit, continues training
On 31 May, The Moldovan National Army (MNA) received the first batch of equipment procured under the European Instrument for Peace framework. As showcased by local authorities, the equipment mainly consists of Explosive Ordnance Disposal (EOD) suits and related items. Placed in 2021, the order is worth $7 million. By the end of 2023, new batches of equipment such as ambulances, de-mining robots, transport vehicles and medical equipment will arrive in Moldova.
Moldovan Defense Minister Anatolie Nostaîi and EU Commission Vice-President and High Representative for Foreign Affairs and Security Policy Josep Borrell attended the reception ceremony at the Agency for Military Science and Memory in Chișinău.
The MNA conducted a series of reservist and multinational exercises throughout May under the training plan for 2023. On 29 May, the motorized infantry brigade "Stefan cel Mare" deployed to the Smardan training range in Romania to participate in the U.S. Army-led "Saber Guardian 2023" multinational exercise (29 May – 9 June 2023). Between 15-19 May, the motorized infantry brigade "Moldova" held a skill verification and familiarization exercise for reservists in Bălți. Previously on 10 May, the MNA held a joint exercise with the Romanian Land Forces at the Bălți training range.
Transnistria: Security remains tense
The rapid reaction unit "Dniester" of the PMR's Ministry of Internal Affairs conducted a rare tactical exercise at an abandoned school in Suklea on 31 May. The training operation involved capturing "criminals" who had taken hostages and barricaded themselves inside the school.
PMR president Vadim Krasnoselsky extended the terrorist threat level "yellow" for 60 more days on 17 May. The new extension was justified by the recent supposed "terrorist plot" foiled in Tiraspol. The terrorist threat regime has been in effect since March 2022 and will likely continue to be extended for the foreseeable future.
PMR representative to Moscow Leonid Manakov requested more Russian "peacekeepers" in Transnistria due to the "deteriorating security situation" in an interview with Sputnik on 8 May. Manakov claims he already made repeated requests to increase the Russian troop count in Transnistria. Part of his proposal is to recruit Russian citizens currently residing in Transnistria.
It is unclear how "official" or serious is Manakov's request. Transnistrian politicians regularly ask Russia to deploy new troops as a way of deterring Moldova.

Russia is currently unable to deploy new troops in Transnistria. All transport routes to and from the PMR must pass through Moldova, Ukraine, or NATO territory.

It is unclear if Russia managed to rotate any of its forces in and out of Transnistria since the beginning of the invasion of Ukraine. However, it is likely that a significant percentage of Russian "peacekeepers" in the PMR are locals with Russian citizenship.
Găgăuz elections and calls for increased autonomy
The Gagauz Congress of Deputies called on the Moldovan government to "stop cutting [Găgăuzia's] power of autonomy." The deputies adopted a resolution to de facto bolster Găgăuzia's autonomy from Moldova. The resolution demands that legislation adopted at the region's level is no longer subject to supervision by the central government. In addition, the Gagauz Congress wants more representatives in the legislative, executive, and judicial branches.
The pro-Russian Șor Party candidate Evghenia Gutuț was validated as Gaguzia's new governor (bașcan) by the Comrat Court of Appeal on 22 May. Guțul won the governor race with 52.34% of the vote and was followed by Socialist candidate Grigori Uzun. The Moldovan government previously reported irregularities in the 14 May ballot in Găgăuzia. The Moldovan Center for Anticorruption said there are reasonable suspicions that votes were cast for deceased persons and some who live abroad.
Eveghenia Guțul said she wants "further friendship" with Moscow as Șor is a pro-Russian party. She announced plans to open a Gagauz liaison office in Moscow.
Now in control of the historically pro-Russian Găgăuzia, Șor Party is likely to ramp up pressure on Moldova from inside the autonomous region. This would open a new "front" against the Moldovan government's European aspirations, especially as the Constitutional Court is considering outlawing the Șor Party.
---
DISCLAIMER: This report first appeared on Linkedin on 15 May 2023. 
Founder of T-Intelligence. OSINT analyst & instructor, with experience in defense intelligence (private sector), armed conflicts, and geopolitical flashpoints.