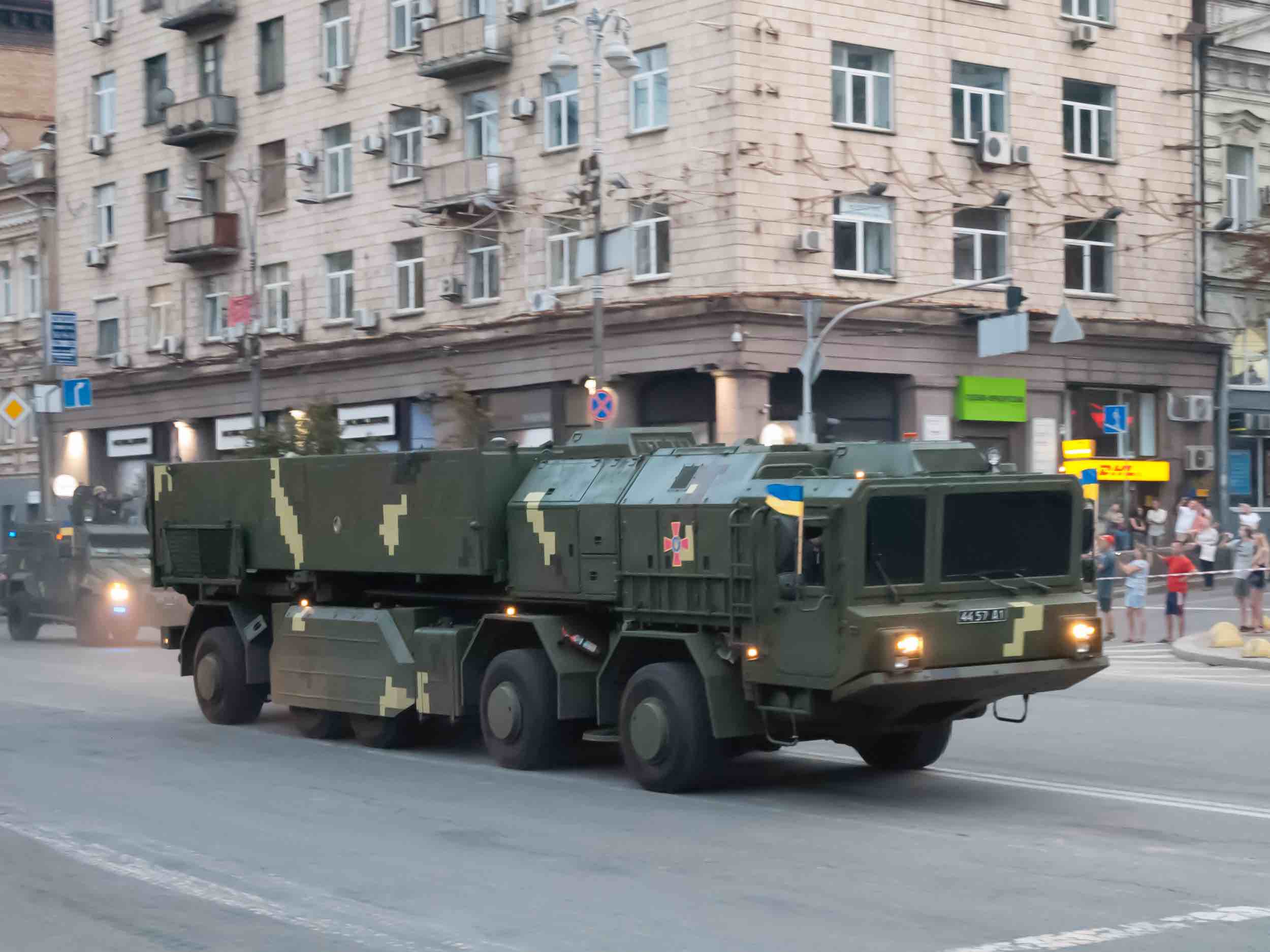 Ukrainian Brigadier General Serhiy Baranov's recent confirmation of the operational status and ongoing improvements of Ukraine's Hrim-2 missile presents a unique opportunity for foreign-local defense industry collaboration. Foreign defense companies can help Ukraine improve Hrim-2 and upscale production capacity while Kyiv retains sovereignty over how and when it seeks to employ it.
---
HRIM-2 LIVES: OFFICIAL CONFIRMATION
On 3 November 2023, Brigadier General Serhiy Baranov, Head of the Main Directorate of Missile Forces, Artillery, and Unmanned Systems at the Ukrainian General Staff, confirmed that the Hrim-2 short-range ballistic missile (SRBM) is operational and undergoing improvements. 
Baranov's statement provides an official confirmation from a high-ranking Ukrainian official regarding Hrim-2's existence. The Hrim-2, part of the Sapsan complex, was caught unfinished by Russia's full-scale invasion in February 2022. 
However, there were signs and speculation that the Hrim-2 was rushed into service and used covertly against select targets, drawing parallels to the deployment of the Neptune anti-ship cruise missile (AshCM).
The August 2022 attacks on Saki Air Base, assessed by T-Intelligence as likely executed by Hrim-2s, and unverified Russian claims of intercepting a Hrim-2 in March 2023 added further intrigue to the Ukrainian SRBM mystery. 
The revelation that Hrim-2 is operational and under improvement presents an opportunity for allied and partner national defense industries to help Ukraine enhance the missile and increase its production. 
SECURITY CONSTRAINTS ON HRIM-2 DEVELOPMENT
The Hrim-2's development is shrouded in secrecy due to Russia's efforts to seek and destroy the system. This poses security challenges and constrains for the missile's high-rate production and further development. 
The extent of Russian missile attacks against the Ukrainian defense industry has also likely weakened the country's manufacturing capabilities.

This presents a unique opportunity for foreign-local defense cooperations, including the transfer of technology and production (TOT/P), which is shaping up to become the norm for the future of international military assistance to Ukraine. 
CLOSE CIRLE: POSSIBLE MISSILE PARTNERS
The Hrim-2 program's strategic importance for Ukraine and sophistication limits potential partners to a select few. 
U.S. defense giants, including Lockheed Martin, Raytheon, and Northrop Grumman, lead owing to strong political backing and established industrial partnerships. 
The MBDA consortium is a secondary option, with its Storm Shadow/SCALP-EG ALCMs already contributed to Ukraine's long-range strike capabilities.
However, MBDA's German component poses a major hurdle to any industrial cooperation involving TOT/P. Berlin has yet to release the Taurus, Germany's version of the Storm Shadow/SCALP-EG variant, to Ukraine. 
Turkey could present a wildcard partnership, leveraging Roketsan's demonstrated capability and interest in ballistic missile technology. This was recently exemplified by the 560-km range Tayfun SRBM, test-fired in October 2022. 
South Korea is another wildcard, offering potential contributions to Ukraine's Hrim-2 program through the technologically comparable Hyunmoo-2 ballistic missile series developed by the Defense Development Agency (DDA) and Hanwha Aerospace. 
The South Korean defense industry's reputation for production capacity and willingness to provide industrial offsets are strong incentives to strike a cooperation agreement if political willingness exists in both Kyiv and Seoul.
COLLABORATION FRAMEWORK
Foreign-local industrial cooperation on Hrim-2 would likely require a flexible framework that prioritizes efficiency and security.
This could involve key phases of development, or even a percentage of entire production output, being conducted outside Ukraine, with only localized assembly for specific batches designated for operational use. 
The collaborative effort would not sideline Ukrainian engineers; instead, it could facilitate the exchange of knowledge and the development of skills. The Ukrainian defense industry could gradually take over a larger share of the tasks pending security and infrastructure availability in-country.
FUTURE PROOFING MILITARY AID TO UKRAINE
Joint ventures and partnerships between Ukrainian and foreign defense companies will likely become the future of international military aid to Ukraine. This will allow Ukraine homegrow or co-develop the equipment it needs in the context of dwindling inventories of readily available capabilities. 
Given the historical expertise drained from Ukraine's defense industry due to decades of underfunding and modernization challenges, now coupled with massive infrastructure attacks, foreign assistance and capital influx have become integral to revitalization. 
Industrial-level cooperation is a pathway for Ukraine to arms itself with sophisticated, high-end capabilities without being subjected to political end-user restrictions. 
HRIM-2 BACKGROUND
The Hrim-2 SRBM, as part of the Sapsan complex, represents Ukraine's effort to replace its limited and aging Tochka inventory with a more advanced capability. The development of Hrim-2 was made possible through funding from Saudi Arabia in exchange for TOT for the Kingdom's own ballistic missile ambitions. 
Developed by Pivdenne Design Office, PA Pivdenmash, and other Ukrainian enterprises, Hrim-2 boasts a claimed 300-500 km range, with an export variant capped at 280 km. Its aero-ballistic capabilities allow evasion of modern air defenses like the S-300 and S-400, drawing parallels to the Russian 9K720 Iskander complex.
---
by Vlad Sutea
Cover image © VoidWanderer via Wikimedia
Founder of T-Intelligence. OSINT analyst & instructor, with experience in defense intelligence (private sector), armed conflicts, and geopolitical flashpoints.