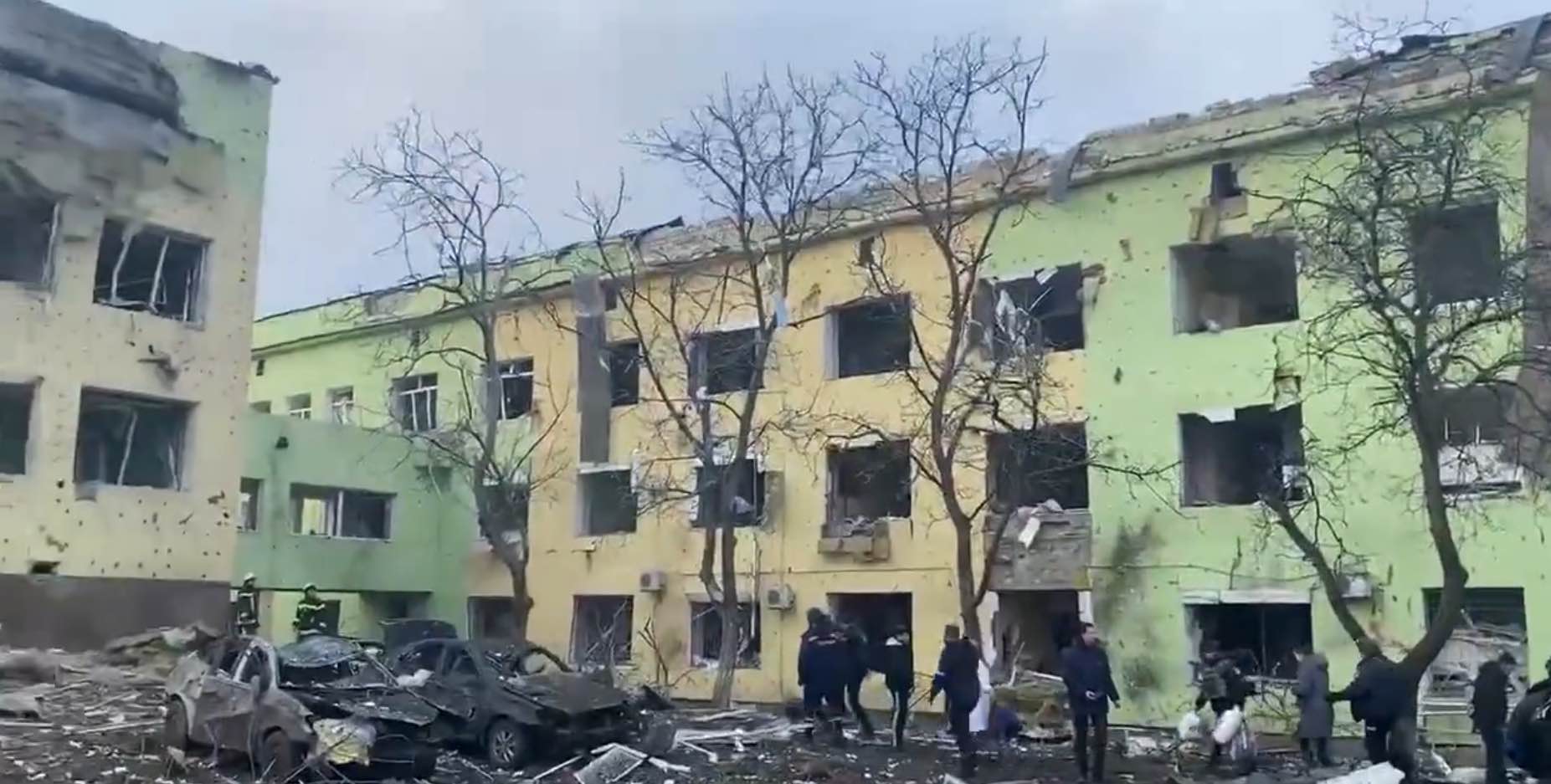 A medical complex in the southern city of Mariupol, Ukraine, has been destroyed in a reported airstrike on 9 March 2022, social media videos show. It is virtually certain that Russia has conducted the attack. Russian forces have encircled the city since 1 March, uniting advancing forces from Crimea with those in Donetsk oblast, and enjoy local air superiority. Since the pincer move was completed, Russian troops have resorted to unrestricted, punitive strikes to force the Ukrainian soldiers and population in Mariupol to surrender.
Russia destroyed a childrens and maternity hospital in Mariupol. Casualties are unknown. This is so outrageous and Putin's war criminals continue to strategically target children, women, elderly pic.twitter.com/we0eoOEKcP

— Olga Lautman 🇺🇦 (@OlgaNYC1211) March 9, 2022
Mariupol. Direct strike of Russian troops at the maternity hospital. People, children are under the wreckage. Atrocity! How much longer will the world be an accomplice ignoring terror? Close the sky right now! Stop the killings! You have power but you seem to be losing humanity. pic.twitter.com/FoaNdbKH5k

— Володимир Зеленський (@ZelenskyyUa) March 9, 2022
THE ATTACK 
Eyewitnesses report that the strike was carried out by aircraft. The blast carved a giant crater in the middle of the medical complex, which the New York Times estimates to be 10 feet deep. If the attack was air-launched, Russia likely employed a FAB-series air-dropped bomb, likely FAB 500 (the numbers indicate its mass in kilograms). Russia has already used FAB 500 bombs in Chernihiv, including against residential areas. The possibility of a surface to surface attack also exists, however, one single artillery shell is unlikely to have caused this impact mark. No weapon debris has been documented so far. 
Just try and realize this.
Russia today dropped a 1000-kilogram airbomb in downtown Mariupol.
In a location between a hospital and birthing center.
Just because it can. pic.twitter.com/iH4NgvfwXF

— Illia Ponomarenko 🇺🇦 (@IAPonomarenko) March 9, 2022

A regional official told Ukrainian media that 17 people were injured, including staff and patients. No deaths have been reported so far, according to Pavlo Kyrylenko, the head of the Donetsk regional administration, as quoted by Interfax. 
FACILITY AND LOCATION
Geolocation confirms that the building complex seen in the footage is indeed a medical facility, appearing as Dytyacha Konsul'tatyvno-DIahnostychna Poliklinika (translates in Children's Consulting and Diagnostic Polyclinic) on Google Maps, located in Mariupol. As photos and open source information indicate, a maternity ward is also part of the medical complex. 
Geolocation of bombed childeren policlinic 'Dytyacha Konsulʹtatyvno-Diahnostychna Poliklinika' in Mariupol: 47.096781, 37.533440 – https://t.co/dJGGI9RC4a https://t.co/F5uPS2y326 pic.twitter.com/BEXfxjwox9

— ваят (@bibken) March 9, 2022
It is possible that Russia deliberately targeted this facility as part of its siege tactics. As extensively seen during Russia's siege operations in Syria, Russian forces purposely target medical facilities to deprive the local population and defenders of healthcare and other key services. Such attacks also serve a psychological purpose: to terrorize the population into submission. Thrown into a humanitarian disaster, an attrited population and defending force are less capable of combat and more likely to surrender. 
MARIUPOL UNDER SIEGE
The hospital attack is just one of the many strikes that Russia has conducted on Mariupol on 9 March, as it tries to seize the city. Maxar's very high-resolution satellite imagery reveals the extent of damage caused by Russian shelling in the past 24 hours. As the photos show, residential homes, apartment complexes, and shopping centers have been badly damaged and destroyed. The deliberate targeting of shopping centers that include hypermarkets and other large grocery stores aims to create a food shortage. This is another siege tactic that the Russian military uses to deteriorate living conditions and force a surrender.
Mariupol was under a limited ceasefire negotiated between Ukraine and Russia on Sunday to allow evacuations. However, Russia has breached the ceasefire by shelling the humanitarian corridors, stalling the evacuation in the process. 
Video from a pro-Russia war correspondent showing Russian MLRS launches towards Mariupol. https://t.co/RCTZVQ1EFP pic.twitter.com/K4t0PamMLN

— Rob Lee (@RALee85) March 9, 2022
The collapse of Mariupol will enable Russia to link Crimea with the separatist territories in Donbas by land, which has likely been a Russian aim since the 2014 Donbas offensive. Back in 2014-2015, Mariupol represented the maximum point of advance of the Russian military during the Donbas offensive. Ukrainian forces managed to stop the Russian advance and keep Mariupol. 
Russian control of Mariupol will also leave Ukraine without access to the Azov Sea, as Russia has already captured 99% of the coastline.  
---
DISCLAIMER: This report is legacy content published before T-Intelligence's relaunch on 4 July 2023. The report has been retained for archival purposes, but the content may not align with current standards.
Latest posts by Incident Response Team
(see all)