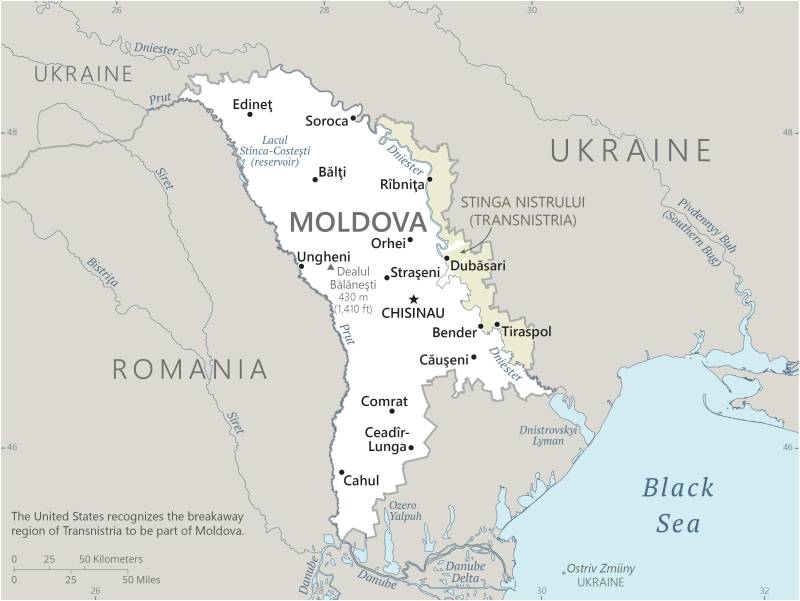 The Moldova/Transnistria Situation Reports (SitReps) are a response to the intelligence obtained by Ukraine and Moldova indicating that Russia plans to overthrow the democratically elected government in Chișinău and maintain the threat of Transnistria high for Ukraine. Drawing from open-source information (OSINF), the newsletter will provide periodic updates on security-relevant developments and analysis. (see previous updates: six, five, four, three, two, and one + our threatcast on Russian military intentions to link up with Transnistria).
KEY JUDGEMENTS 
Russian officials threatened Moldova with the use of force in June, marking an escalation in public communications against Chișnău. The deputy chairman for the Duma's CIS committee expressed hope that Russia's invasion of Ukraine will extend to Transnistria and link up with the breakaway region. Another statement came from the Russian occupation head in Kherson who called for airstrikes against Giurgiulești Bridge, linking Romania to Moldova near Ukraine. 

The outlawing and subsequent reemergence of Russia's key Moldovan proxy, Șor Party, marked the most notable domestic affair development. Șor Party strives to regenerate its political standing in the medium term following the blow of being ruled unconstitutional. Moldova continues to make progress on European integration, being a top performer in this regard, according to an interim EU report.

European market integration and the strengthening of joint infrastructure with Romania continued to progress in the past month. Moldova signed a European Free Trade Association (EFTA) with Iceland, Liechtenstein, Norway, and Switzerland. Moldova's changing sociopolitical dynamic was captured by a new poll, from which we summarized some takeaways in the report below.
SITREP (2 June – 1 July)
MOLDOVAN EUROPEAN INTEGRATION
Moldova made significant progress in fulfilling the recommendations of the European Commission, according to an interim report that was presented to European ambassadors and foreign ministers at a meeting in Stockholm on 21 June 2023. Moldova has fulfilled three out of nine recommendations and made good progress in two other areas. The report highlights the country's achievements in involving civil society in decision-making and protecting human rights. It also commends Moldova for addressing legislative deficiencies identified by the Venice Commission and making progress in justice reform and public finance management.
However, further efforts are needed in combating corruption, organized crime (or de-oligarchization), and public administration reform. Moldova and Ukraine are considered the top performers among the associated countries, while Georgia faces more challenges. 
Both Chișinău and Kyiv hope the European Union (EU) states will open accession negotiations at the end of this year. 
On 12 June, President Maia Sandu met with German ambassador Maria Uebber to discuss the priorities of the German-Moldovan bilateral agenda. Sandu expressed gratitude for German support in Moldova's European integration. Sandu stressed Germany is a strategic partner of Moldova, referencing the donation of 30 Toyota pick-up trucks for the Moldovan Border Police and 19 Piranha-3H armored personnel carriers for the Moldovan National Army. 
On 7 June, Moldova officially aligned with the European Pillar of Social Rights (EPSR). Moldovan Minister of Labor and Social Protection Alexei Buzu signed a declaration on the alignment with the EPSR of the European Union. This now provides Moldova with a set of socio-political commitments expected of EU member states, without being legally binding. Buzu emphasized the Moldovan government's intentions to increase efforts to align with and adhere to EU standards. 
MOLDOVAN FINANCIAL ASSISTANCE
On 27 June, Moldova signed a Free Trade Agreement with member states of the European Free Trade Association. Chișinău signed a free trade agreement with the states of the European Free Trade Association (EFTA) – Iceland, Liechtenstein, Norway, and Switzerland), which was signed in the presence of Moldovan Prime Minister Dorin Recean in Liechtenstein. The agreement will facilitate economic cooperation and trade. Recean described the agreement as historic, creating multiple socioeconomic benefits for Moldova such as increased investment, employment, economic stability, independence, and exports. This achievement also further integrates Moldova into the European market. 
The French Development Agency is scheduled to loan Chișinău €120 million for the implementation of energy reform projects. In addition, Moldova will also be provided with technical assistance, funded through a €5 million donation from the European Commission Neighbourhood Investment Platform. Moldovan energy minister, Victor Parlicov, stated this should expedite the process of Moldovan integration into the European Union, in relation to the energy requirements. 
The funds are reported to be used for decarbonization, electrification of public transport, and smoothing the utilization of renewable energies in the national energy network.
MOLDO-ROMANIAN COOPERATION
Moldova stated its determination to increase participation in joint endeavors with Romania. On 20 June, Moldovan Deputy Prime Minister Nicu Popescu received Romanian Foreign Affairs Minister Luminița  Odobescu to discuss the importance of bilateral relations. Both parties claimed relations were the strongest in three decades. Romania emphasized its recent assistance to Moldova in projects such as the construction of:
an overhead powerline from Bălți to Suceava; 

three road bridges across the Prut River; 

border crossing between Leova and Bumbata. 
President Maia Sandu met with Romanian Foreign Minister Luminița Odobescu on 19 June. Sandu welcomed Odobescu to Chișinău and emphasized that the EU accession process and the bilateral relationship were of utmost importance to Moldova. 
MOLDOVAN DEFENSE
Moldova sent observers to the Ridge Runner Iregular Warfare Exercise 23-01 in West Virginia, U.S in the first half of June. Moldova was one of 11 observers, alongside activate participants from the Polish JWK and Territorial Defense Forces, the UK, Latvia, and Lithuania that attended the exercise. Based on photographic evidence, this year's iteration of Ridge Runner was by the Russian invasion of Ukraine and featured mock ups of Russian S-3/400s and Shahed-136 one-way attack drones. Ridge Runner 23-01 likley simulated a guerilla war against a superior invading force, a scenario for which eastern European states, especially non-NATO members like Moldova must constantly prepare for.
The Moldovan and Romanian militaries ratified the bilateral cooperation plan for 2023-2024, on 12-13 June in Târgu-Mureș, Romania. The plan was signed during the eight edition of the Moldovan-Romanian Joined Defense Committee. The two delegations discussed defense modernization, education, joint training, specialized studies, as well as increased interoperability with a view to joint activities and peacekeeping missions. 
MOLDOVAN INTERNAL AFFAIRS
An attacker opened fire at Chișinău airport, killing two people, before being neutralized by Moldovan security forces on 30 June. The attacker was a Tajik citizen who was refused entrance to Moldova on security grounds. The attacker had fled to Moldova via Turkey after being charged with attempted kidnapping in Tajikistan.
Upon being escorted to the neutral zone to be returned to Turkey, the attacker stole a weapon from a border police employee and mortally wounded the policeman and an airport security employee. The attacker was killed by the intervening "Fulger" Special Purpose Police Brigade.
Șor Party leader Ilan Șor established a new political bloc, "Șansă, Obligații și Realizări," abbreviated ȘOR, on 26 June. This comes after the Moldovan Constitutional Court outlawed Șor Party on 19 June. The Court ruled that the Șor Party represents the interest of the Russian Federation in Moldova and contradicts the principles of the rule of law. 
The ruling is a big blow to the Kremlin's political warfare operations in Moldova. However, it will likely be short-lived as Șor will continue operations through the new political bloc and behind the scenes. 
Ilan Șor's influence network extends beyond politics and will remain a threat to Moldova's stability. In the medium term, the Șor successor bloc (ȘOR) will work to reconsolidate as many populist, pro-Russian, and fringe parties under its banner as it can. Some factions, such as the anti-Romanian "Ai noștri" and "Forța de Alternativă și de Salvare a Moldovei," have already announced their intent to join ȘOR. 
A new socio-political poll captures shifting trends within Moldovan society, including the increase in pro-Europeanism and decreased sympathy towards Russia. Over 1,100 Moldovans of all backgrounds participated in the WatchDog study, which covered various issues from leader approval, neutrality, EU and NATO, Russia, the war in Ukraine, and more. The error margin is judged at ±2.5%. Respondents were asked over the phone between 10 and 19 June 2023. For your convenience, we have extracted the following findings: 
Top concerns:

War in the neighborhood, rising prices, and the future of their children are the top three issues concerning Moldovan citizens. 

Leader approval:

President Sandu enjoys by far the most support among the respondents, with a 30.1% approval rate. She is followed by Igor Dodon and Ilan Sor with 5.4% and 4.1% respectively. However, most respondents (43.5%) said they do not trust anyone in particular. 

Neutrality:

Moldovans are divided on Moldova's neutrality status, with 44.5% believing the status quo can protect them from foreign aggression. Around 43.1% think the opposite. 

Russian threat:

Only 42.8% of respondents perceive Russia as threatening Moldovan national security. Around 47% do not perceive Russia as a threat, while 9.5% are uncertain. The percentage of people seeing Russia as a hostile force has actually increased over the past years despite Moscow's historic grip on the Moldovan informational environment. 

Joining the EU:

Over 58% said they would vote for Moldova's accession to the EU if a referendum were organized next Sunday. In contrast, only 37.9% said they would vote to join Russia's Eurasian Economic Union. When asked to pick one of the two organizations, 53% chose the EU, while only 27.2% looked East. 

Joining NATO:

52.6% would vote against; 33.4% would vote for. While the majority still oppose NATO membership, this percentage has very likely  also decreased over the past year. 

Reunification with Romania:

40% would vote for; 50.3% against; 6.6% uncertain. According to respondent data, 81.3% of non-Romanian speakers oppose unification with Romania. Their key age group is 45-59 years. 

War in Ukraine:

Most Moldovans believe that Russia's invasion of Ukraine is unjustified and unprovoked (40.4%). Only 21.7% believe Russia intervened to defend the separatist republics in Donbas, and even fewer (10%) agree with the statement that "Russia is conducting an operation to denazify Ukraine." Regarding responsibility, opinions are mixed, with seven perceived "culprits" named, including foreign countries. However, Putin tops this list, with 24.2% of respondents holding him personally accountable for the invasion. 

Foreign leader approval:

Moldova's favorite foreign leaders are French President Macron, Romanian President Klaus Iohannis, and Ukrainian President Volodymyr Zelensky.
TRANSNISTRIA AND RUSSIA
Moldova and Ukraine both reaffirmed their position on the necessity of withdrawing Russian troops from Transnistria. During a meeting in Chișinău on 23 June, Moldovan Secretary of State for the Ministry of Foreign Affairs Vladimir Cuc and Ukrainian Ambassador at Large Paun Rohovei reiterated their commitment to a peaceful solution that respects the sovereignty and territorial integrity of the internationally recognized borders of Moldova. 
Russia's Kherson military occupation chief, Volodymyr Saldo, allegedly threatened to conduct a reprisal strike on the Giurgiulești bridge, which links Moldova to Romania near the Ukrainian border, following the Storm Shadow strike on a bridge linking Crimea to Kherson on 22 June. Russian Ambassador to Moldova Oleg Vasnetsov was subsequently summoned to the Moldovan Ministry of Foreign Affairs and European Integration (MAEIE) for explanations. The MAEIE, in turn, declared it would "not tolerate such language directed against the Republic of Moldova." Russia responded in kind by summoning Lilian Darii, Moldovan Ambassador to Russia, on 26 June. 
Saldo's threat is unlikely to have serious effects, nor does it have strong political backing in Moscow. A Russian airstrike on the Giurgiulești bridge is highly unlikely due to proximity to NATO member Romania. Saldo's statement does, however, underscore the continuation of tense relations between Moldova and Russia over the war in Ukraine.
On 21 June, Deputy Chariman of the State Duma Committee on CIS Affairs Konstantin Zatulin urged Russian forces to advance towards Transnistria. Zatulin claimed that linking up with the so-called Pridnestrovian Moldovan Republic (PMR) is the best way to guarantee security for the 200,000 Russian citizens living there. He also quoted Russia's perceived threat that Moldova could greenlight a Ukrainian offensive on Transnistria, a narrative pushed by Moscow since 2022, as a reason for his statement. 
The Russian foreign ministry issued a statement on Transnistrian destabilization. On 7 June, The Russian Foreign Ministry spokesperson Maria Zakharova stated that Moscow was "closely monitoring" the Transnistrian situation and "warned against" destabilization attempts. She underscored the Russian government's position as a "mediator and guarantor" in Transnistria, facilitated through the presence of the Operational Group of Russian Forces (OGRF). 
Zakharova underscored that the OGRF remains ready to react sufficiently to provocations against their servicemen in Transnistria. The Russian foreign ministry also stated that any military actions that threaten the security of Transnistria will be "considered under international law as an attack on the Russian Federation."
---
by Vlad Sutea and Will Kingston-Cox