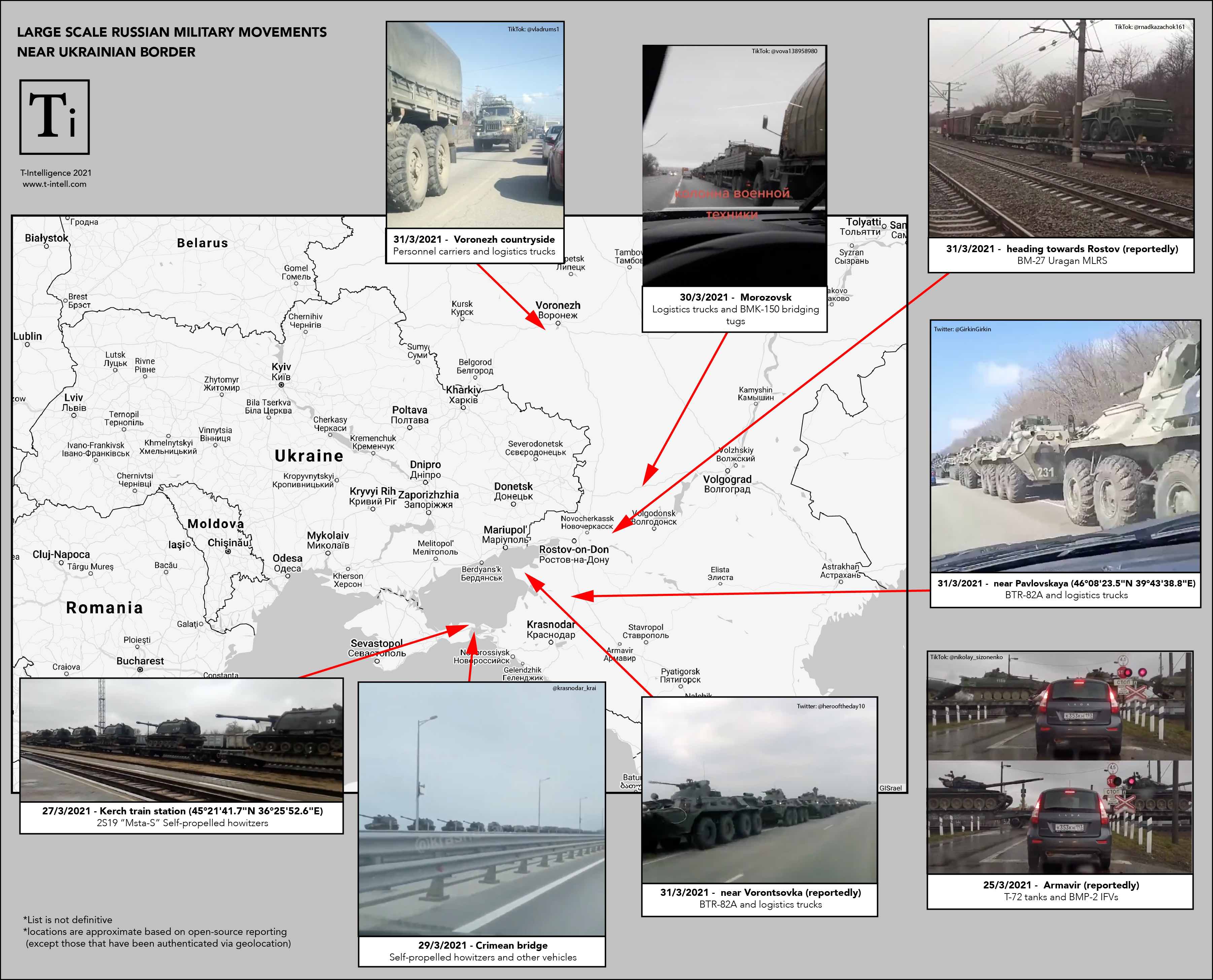 Videos on social media show a massive Russian military deployment near the Ukrainian border in the past 72 hours.
Main battle tanks, infantry fighting vehicles, armored personnel carriers, self-propelled artillery, rocket launch systems, logistics trucks, and amphibious trailers (bridge-layers) have poured into occupied Crimea, Krasnodar Krai, and Rostov oblast.
The troop movements are so big that Russian agricultural machinery manufacturers and farmers have complained to the government that they cannot move their equipment ahead of the harvest season because the military requisitioned all of the flatbed railcars. 
While the recent movements are out of the ordinary, they are not unprecedented. Russia has periodically launched large-scale snap deployments in an attempt to "bear scare" before upcoming negotiations or to test its adversaries ever since it invaded Ukraine in 2014. 
HYPOTHESES FOR THE RECENT SITUATION:
1.Tit-for-tat for Ukraine's moderate troop surge near Donbas and Luhansk in early March (following an increased number of ceasefire violations by Russia in Donbas).
In early March, a string of videos and images surfaced on social media, reportedly showing Ukrainian military hardware, T-64 tanks, APCs, and other vehicles, moving by train towards the war-torn Donbas. 
NEW – Ukraine military moving 'T-64 tanks' loaded on train towards Donbass frontline near Russian borderpic.twitter.com/rSk7atBufw

— Insider Paper (@TheInsiderPaper) March 8, 2021
While most of the footage remained unverified, the vast majority of the media material was genuine (not recycled from other build-ups), and a small amount could even be authenticated. For example, the images below show Ukrainian military vehicles on flatbed railcars in the Dnepropetrovsk train station. 
The deployments followed an uptick in ceasefire violations that resulted in Ukrainian soldiers' death and increased sightings of advanced Russian weaponry in the Donbas. 
Russia's latest saber-rattling is likely a direct response to the presumed Ukrainian reinforcements in the east. 
2.Posturing for ceasefire negotiations.  
This is a strong candidate theory considering that talks between the Trilateral Contact Group (Ukraine, Russia, OSCE) on Ukraine to extend the ceasefire monitoring mission beyond April 1st, have nearly failed. However, the OSCE managed to extend the mandate for another year in the final hours of March 31st. 
3.Preparations for a renewed offensive against Ukraine.
The hardware type deployed and deployment locations are consistent with preparations for a multi-front assault on eastern Ukraine. Russian forces could escalate violence in Donbas while simultaneously assaulting Mariupol from Crimea to finish off the land-bridge linking Donbas with the occupied peninsula. 
Russia's movements have certainly stirred international anxiety, and NATO seems to be taking the risk seriously. U.S. Chairman of the Joint Chief of Staff Gen. Milley had a phone call with his Russian counterpart, Gen. Gerasimov, discussing the recent troop build-up on March 31st. The U.S. European Command has reclassified Ukraine's risk status from "possible crisis" to "potential imminent crisis."  
There has also been a spike in aerial intelligence collection sorties off the Crimean coast. A British Electronic Intelligence (ELINT) aircraft and American drones are among the platforms that "glued their eyes" on Russia's military manoeuvres. 
RAF RC-135W Rivet Joint (#ZZ666) ELINT aircraft active off the Crimean coast, sniffing radars and whatnot…. 📻📡

While the recon run is seemingly connected to Russia's recent troop build-up, keep in mind, these sorties have taken place before, even in the past weeks. pic.twitter.com/aD5fHzdVb9

— T-Intelligence (@T_intell) April 1, 2021
Aerial activity around #Crimea: U.S. RQ-4 Global Hawk, from Sigonella, collecting IMINT off the Crimean and Russian coasts. In paralel, a RuNavy Tu-154M flying towards the Azov Sea. pic.twitter.com/hyTSZhhVf3

— T-Intelligence (@T_intell) April 2, 2021
While the P-8 Poseidon does its thing in the northern Black Sea. Currently in holding pattern near #Kerch strait. pic.twitter.com/QvRRKSL9SV

— T-Intelligence (@T_intell) April 2, 2021
While a renewed invasion is the most impactful scenario, it is also the most unlikely at this point in time. 
PRELIMINARY ASSESSMENT
Apart from the mentioned hypotheses, there could be a myriad of other reasons that contribute to the latest actions, such as the relocation of 56th Airborne brigade from Kamyshin to Feodosia, unannounced military exercises, or extended deployments post-drills. 
The recent movements are likely just another "bear scare," however, one should never rule out the possibility of a renewed Russian offensive in eastern Ukraine. Ultimately, this is a fluid and volatile situation that can escalate or cool down at any moment. Prudent caution is advised. 
---
by HARM
ALERT: Read our second part report on Russia's build-near near Ukraine's border, here, encompassing the latest developments between 1-7 April. 
This article is an extended version of the situation report that we shared on Facebook on 1 April 2021.
Update [2 April 2021, 1700z – CET] to include tweet of flight tracker showing P-8 Poseidon patrolling near Kerch strait.
Update [7 April 2021 1700z – CET] to include link to our second report on the issue. 
Founder of T-Intelligence. OSINT analyst & instructor, with experience in defense intelligence (private sector), armed conflicts, and geopolitical flashpoints.