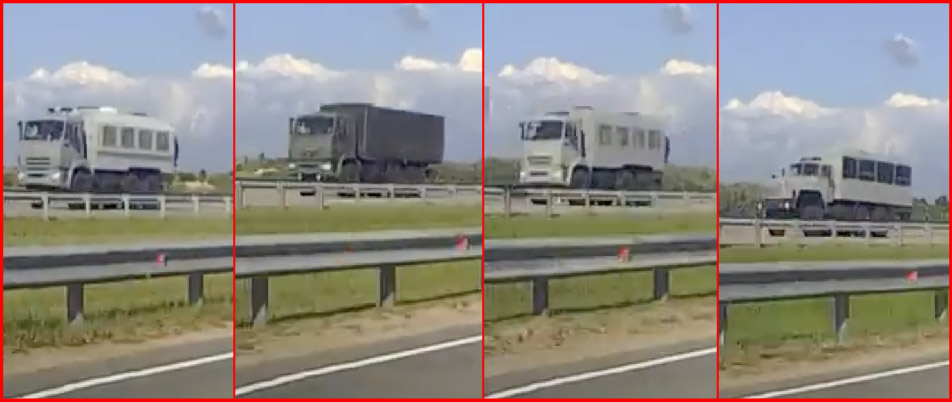 Russian military intervention in Belarus is increasingly likely. Open source intelligence shows significant military activity in Russia's western military district. Eyewitnesses have documented at least three unmarked convoys of the Russian Military Guard (RosGuard) consisting of transport vehicles and logistics trucks moving towards the border with Belarus on 16-17 August 2020. A CITEAM assessment indicates that the convoys could move approximately 600 people. 
Established on President Putin's orders in 2016, the RosGuard is a militarized institution of the Russian Interior Ministry tasked with territorial defense, securing critical infrastructure, counter-terrorism, and "protecting public order." 
So far, we have NOT noticed any Russian military assets operating in Belarus. However, the situation could change dramatically at any movement as pro-democracy protests continue to grow at an unprecedented scale. A crowd of over 200,000 demonstrated in Minsk over the weekend against Belarussian autocrat Alexander Lukashenko, and workers across the country have gone on strike.
Lukashenko branded the freedom movement as being a foreign-backed "colored revolution" and falsely claimed that NATO is preparing to invade Belarus. To back-up his conspiracy, Lukashenko ordered the army to hold a series of snap exercises near the Polish and Lithuanian borders between 17 and 21 August. Photos on social media show that the Belarusian forces are moving several Tochka-U short-range ballistic missile systems from Minsk towards the west, an alarming development for NATO. 
Unable to quell the protests, Lukashenko opened "Pandora's box" by requesting security and military assistance from Russia on 15 August. After a second phone call on Sunday, Lukashenko claimed that Putin promised him "comprehensive security assistance."
A Russian military intervention in Belarus will likely result in the de facto annexation of the country. Moscow has always feared that a "colored revolution" will transform its neighbor into an adversary. If Belarus slips from the Kremlin's orbit, Russia will lose access to the Suwalki Gap, the strategic corridor linking the Baltic states to the rest of NATO, and the gargantuan Baranovichi airbase.
In the past months, Moscow has been insistently pressuring Lukashenko to bring Belarus into a new federal union with Russia. While "Europe's last dictator" wants to keep the country under his thumb, given the new circumstances Lukashenko will likely prefer to forfeit Belarus to Russia than be ousted by the population.
---
This report was originally published on our Facebook page on 17 August 2020.
Founder of T-Intelligence. OSINT analyst & instructor, with experience in defense intelligence (private sector), armed conflicts, and geopolitical flashpoints.