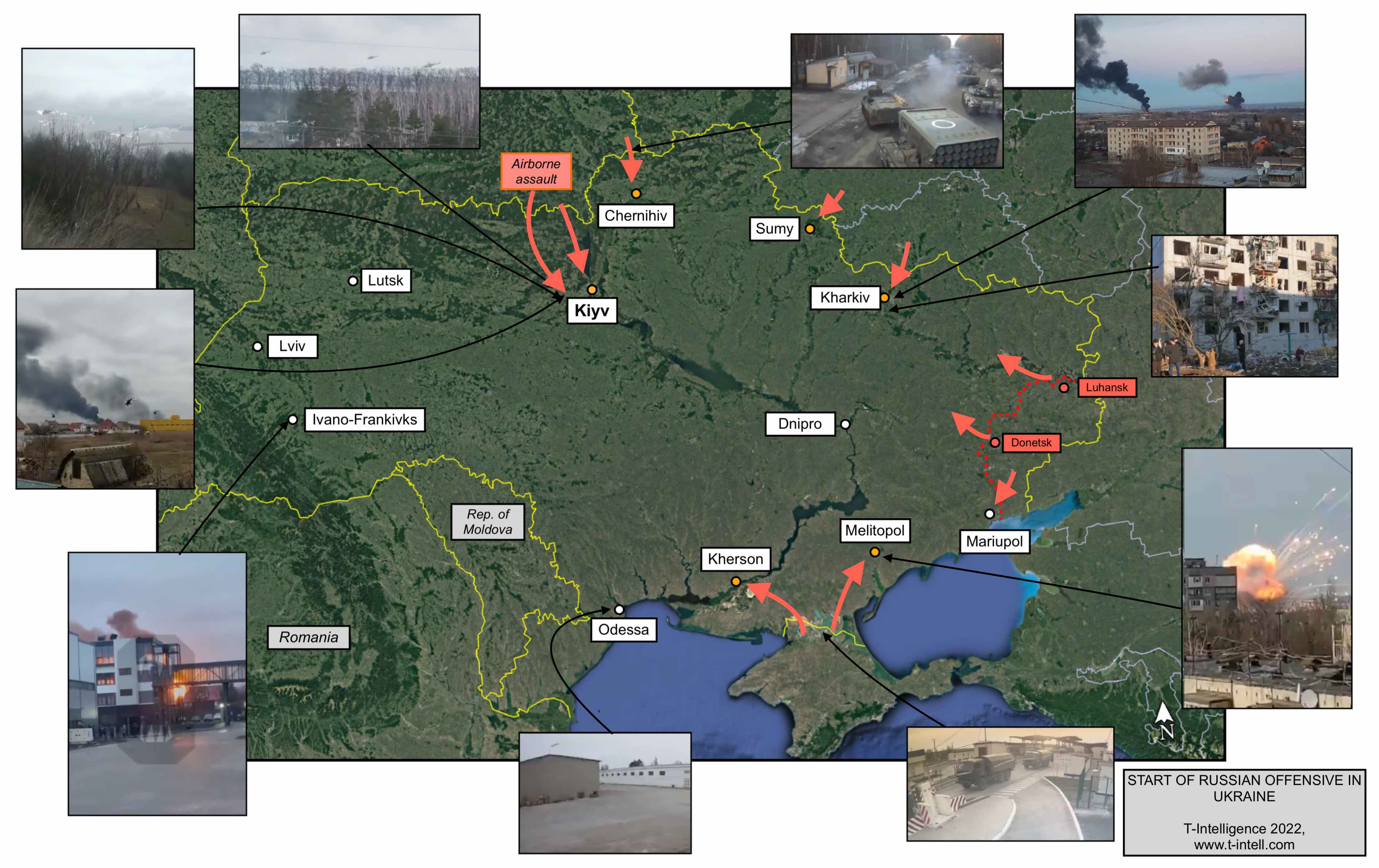 In the early hours of 24 February 2022, Russia commenced a series of pre-assault operations to soften Ukrainian defenses ahead of an all-out, multi-axis invasion, which is now in progress.
This course of events was extensively threatcasted by the OSINT community weeks in advance, including us. Those familiar with our estimates from January 2022, see here, would have expected a Russian invasion and the subsequent operational and tactical developments. 
DAWNBREAKER: PRE-ASSAULT OPERATIONS
Cyber attacks & Electronic Warfare (EW): 
1. The opening salvos of Russia's invasion were cybernetic and electronic and were initiated on 23 February 2022. Russia launched Distributed Denial of Service (DDos) attacks on the Ukrainian government, jammed military communications, and psychological operations against Ukrainian troops.
⚠️ Confirmed: #Ukraine's Ministry of Foreign Affairs, Ministry of Defense, Ministry of Internal Affairs, the Security Service of Ukraine and Cabinet of Ministers websites have just been impacted by network disruptions; the incident appears consistent with recent DDOS attacks 📉 pic.twitter.com/EVyy7mzZRr

— NetBlocks (@netblocks) February 23, 2022
2. One notable EW attack was conducted by a Leer-3 which spammed Ukrainian troops with SMS calling them to surrender or be killed.
Ukrainian "soldiers of the 54th Brigade received such text messages. The occupiers are sending them to their phones" – via @OleksandrKolym

The text reads, "Moscow gave a go to the use of RF Armed Forces in the Donbas! There's still time to save your life and leave the JFO zone" pic.twitter.com/3VHe0oxOfp

— English Lugansk (@loogunda) February 23, 2022
Suppression/Destruction of Enemy Air Defences (S/DEAD)
3. In the dead of night, Russia launched land-attack cruise missiles (LACMs) and anti-radiation missiles (ARMs) at Ukrainian integrated air and missile defenses. They likely disabled several early warning, tracking, and engagement radars, rendering Ukraine's sensors and SAM systems ineffective (S-300, Buk M-1). However, some might still be functional or serviceable. 
Ukrainian radar systems destroyed earlier today, when Russia launched its initial assault. pic.twitter.com/3muRPz35qG

— MrRevinsky (@Kyruer) February 24, 2022
Offensive Counter Air (OCA)
4. Russia launched massive strikes against airbases to ground the Ukrainian Air Force (UkAF). Damaged runways prevent Ukrainian aircraft from taking off and landing. Follow-up salvos disabled the grounded aircraft and cleared facilities for occupation by airborne troops. 
Heavy artillery shelling hit Kharkiv tonight. Ukraine. pic.twitter.com/qvA67XiNrD

— Aldin 🇧🇦 (@aldin_ww) February 24, 2022
1 Ukrainian Su-27 warplane has been destroyed today by Russian forces near Zhytomyr. pic.twitter.com/cmtyGsW4uo

— MrRevinsky (@Kyruer) February 24, 2022
5. Visual evidence suggests that Russia fired ballistic missiles, likely Iskanders (SS-26 Stone), at airbases to cause structural damage – a textbook use of BMs for anti-runway operations. 
Footage from inside the Ukrainian Kulbakino Air Base as the runway and another position was destroyed by Russian ballistic missiles. pic.twitter.com/1kM7XUoLbl

— CaucasusWarReport (@Caucasuswar) February 24, 2022
6. Latest satellite imagery of Chuhuiv Air Base near Harkhiv shows that Russia did not crater the runways of all airports, instead it destroyed fuel depots and munition storage. 
Satellite imagery reveals damage to Chuhuiv air base #Ukraine 🇺🇦 (49.836, 36.645)

📷: @Maxar pic.twitter.com/mWUVlKCw8W

— Joseph Dempsey (@JosephHDempsey) February 24, 2022
7. One Ukrainian Su-27 flew into Romanian airspace where it was intercepted by Romanian F-16s and forced to ground at Bacau Air Base. As per Romanian government accounts, the pilot's homebase was destroyed and had nowhere else to land. 
Counter-C3
8. Russian LACMs also leveled command, control, and communication nodes (C3). These attacks aimed to separate the higher echelons from battlefield units, behead the leadership, and throw the military in disarray. This was another textbook pre-invasion tactic.
Counter-Logistics
9. Many videos emerged online showing LACMs pounding ammunition depots and warehouses, resulting in massive secondary explosions. Attacks to bleed Ukraine's logistical supply lines have occurred nationwide, including Lviv (near Poland), Ivano-Frankivsk (close to Romania), Melitopol, and Odesa. 
Missile strike reportedly on a warehouse in Odessa. https://t.co/FbnFWYWPWV pic.twitter.com/xJYbUcJ2Fo

— Rob Lee (@RALee85) February 24, 2022
Wow. Video of a missile hitting an airport, reportedly in Ivano-Frankivsk in Western Ukraine. The geographic scale of this thing is crazy pic.twitter.com/odhvqin77Y

— Alec Luhn (@ASLuhn) February 24, 2022
10. Our previous T-Intelligence analysis anticipated this tactic to diminish Ukraine's growing ATGM stockpile.
MIDDAY RUMBLE
11. Shortly after the crack of dawn, the Russia commenced a multi-axis ground offensive, moving tanks and armored vehicles along select axis of attack. 
Air superiority
12. As SEAD and OCA were largely successful, the Russia could establish limited air superiority. The major helicopter assault on Kyiv is indicative of this factor. However, a video emerged showing a UkAF MiG-29 buzzing the skies of Kyiv and allegedly dogfighting an alleged Russian Su-35, which means that not all fighters are grounded or destroyed (update: a re-examination of the video concludes that both aircraft are Ukrainian).
#Ukraine 🇺🇦: somewhere near #Kyiv a Ukrainian MiG-29 (low-flying) is taking on a Russian Su-35. pic.twitter.com/qpdJo12uzV

— Thomas van Linge (@ThomasVLinge) February 24, 2022
Manoeuvre
13. Russian battalion tactical groups (BTGs) have advanced from nearly all operational directions:
Belarus (to Kyiv, the Pripyat area, Chernihiv)
14. Russian forces in Belarus crossed the border towards Chernihiv, seized the Chernobyl exclusion zone following a heavy armored battle with Ukrainian forces, and deployed a massive airborne assault on Kyiv. 
Convoy of MT-LB's, fire control vehicle and TOS-1 flamethrower MLRS, plus other vehicles reportedly at the Senkovka-Veselovka border crossing with Belarus pic.twitter.com/MqseHsP5LQ

— ELINT News (@ELINTNews) February 24, 2022
Voronezh (to Kharkiv and Sumy)
15. Under the cover of rocket artillery, tank columns crossed into Ukraine and rapidly approached the country's second-largest city, Kharkiv. The battle for Kharkiv is still raging on, with Russia facing losses. Intrusions have reportedly also occurred further north on the frontier near Sumy. 
Белгород pic.twitter.com/G34hbyjV5h

— IgorGirkin (@GirkinGirkin) February 24, 2022
Russian military column in Volchansk, Kharkiv with Msta-B howitzers, MT-LB, BMP-2, TOS-1A thermobaric MLRS, T-72B3, Tigr-M vehicles, etc. https://t.co/DFCJRQuy4F pic.twitter.com/pI4w2PDqsQ

— Rob Lee (@RALee85) February 24, 2022
The aerodrome in Kharkiv Ukraine says was hit by a Russian missile after Putin announced the special military operation in Ukraine pic.twitter.com/ZDX5P9g3Yu

— Alec Luhn (@ASLuhn) February 24, 2022
Don (further into Donbas)
16. Recently reinforced by Russian troops, Luhansk and Donetsk separatists have launched a tandem assault across the demilitarized zone. Operational objectives are to capture Kramatorsk and Severodonetsk, and secure the rest of Donetsk and Luhansk regions. Splinter groups will likely then follow up to hit Ukrainian positions in Kharkiv from the rear, and separately, besiege Mariupol.  
Crimea (to Kherson & Melitopol)
17. Russia made significant territorial gains north of Crimea, towards Kherson city and most adjacent areas. A separate line of the assault went eastwards and arrived at Melitopol. Beyond Melitopol, Russian forces aim to encircle Mariupol with Donbas formations.
#Breaking #NewsMap
The Ukrainian front in Kherson totally collapsed.
Russian troops reached the Dnepr and do not face any resistance.
I geolocated them 130 km inside Ukraine.
The Ukrainian army says the situation is "difficult". Understatement of the year.
This is unbelievable. pic.twitter.com/0yExuFmjXA

— Julian Röpcke🇺🇦 (@JulianRoepcke) February 24, 2022
Our team will be tweeting the geolocations of as many videos and images as we can identify today. #OSINTatMIIS This is 46.680773° 32.572649° #Ukraine https://t.co/Gbu7evgvod

— Tricia White (@triciawh1te) February 24, 2022
18. An amphibious assault on Odesa is still expected but would likely come later to complete the pincer movement with troops advancing from Kherson. 
Close Air Support (CAS)
19. Ka-52 attack helicopters, Su-25 attack aircraft, and a myriad of ground-based artillery provide overwhelming fires to the advancing columns. Russia's successful OCA and subsequent air superiority enabled aerial CAS platforms. Without a permissive aerial environment, Su-25s and attack helicopters would have been easy targets for Ukrainian fighter jets. 
Russian Su-25 attack aircraft in Hostomel. https://t.co/aWOlMO0uNV pic.twitter.com/8zfdNzHvVw

— Rob Lee (@RALee85) February 24, 2022
Airborne assault
20. Russian Airborne Forces aboard Mii-8 helicopters and escorted by attack helicopters have assaulted key areas around Kyiv. Russian paratroopers achieved a breakthrough at Hostomel airfield/Antonov International Airport, but lost three helicopters to ground to air fire in the process. Russia's airborne assault seemed rushed, albeit speed is key to maintaining the initiative, and faced heavy resistance. 
Securing these facilities is key to airlift tanks, personnel, and the necessary equipment to besiege Kyiv.
Huge Russian Air Assault ongoing just north of Kyiv pic.twitter.com/nFPUFmytR4

— C O U P S U R E (@COUPSURE) February 24, 2022
Confirmed by Ukrainian authorities. A large air assault operation with Mi-8 helicopters on Antonov International Airport in Hostomel. Interior Ministry says Russia has seized control. Very dangerous; it's just 15 minutes west of the capital ring road. pic.twitter.com/JhlyVktVRC

— Christopher Miller (@ChristopherJM) February 24, 2022
#Russian Ka-52 appears to have made an emergency landing after being shot pic.twitter.com/NRFQ21NQML

— Michael A. Horowitz (@michaelh992) February 24, 2022
NIGHTFALL: OFFENSIVE OPERATIONS CONTINUE
Tactical defeat
21. Russian airborne units have lost Hostomel airfield after a strong counterattack from the Ukrainian military. If sustainable, the loss of Hostomel would be a significant blow to Russia's plans to quickly amass and encircle Kyiv before Ukrainian forces establish better defenses. 
EPILOGUE
For reasons of operation security, we will not comment on Ukraine's military movements. We urge OSINT analysts not to share videos or images of the Ukrainian Armed Forces.
---
by HARM 
DISCLAIMER: This report is legacy content published before T-Intelligence's relaunch on 4 July 2023. The report has been retained for archival purposes, but the content may not align with current standards.
Founder of T-Intelligence. OSINT analyst & instructor, with experience in defense intelligence (private sector), armed conflicts, and geopolitical flashpoints.