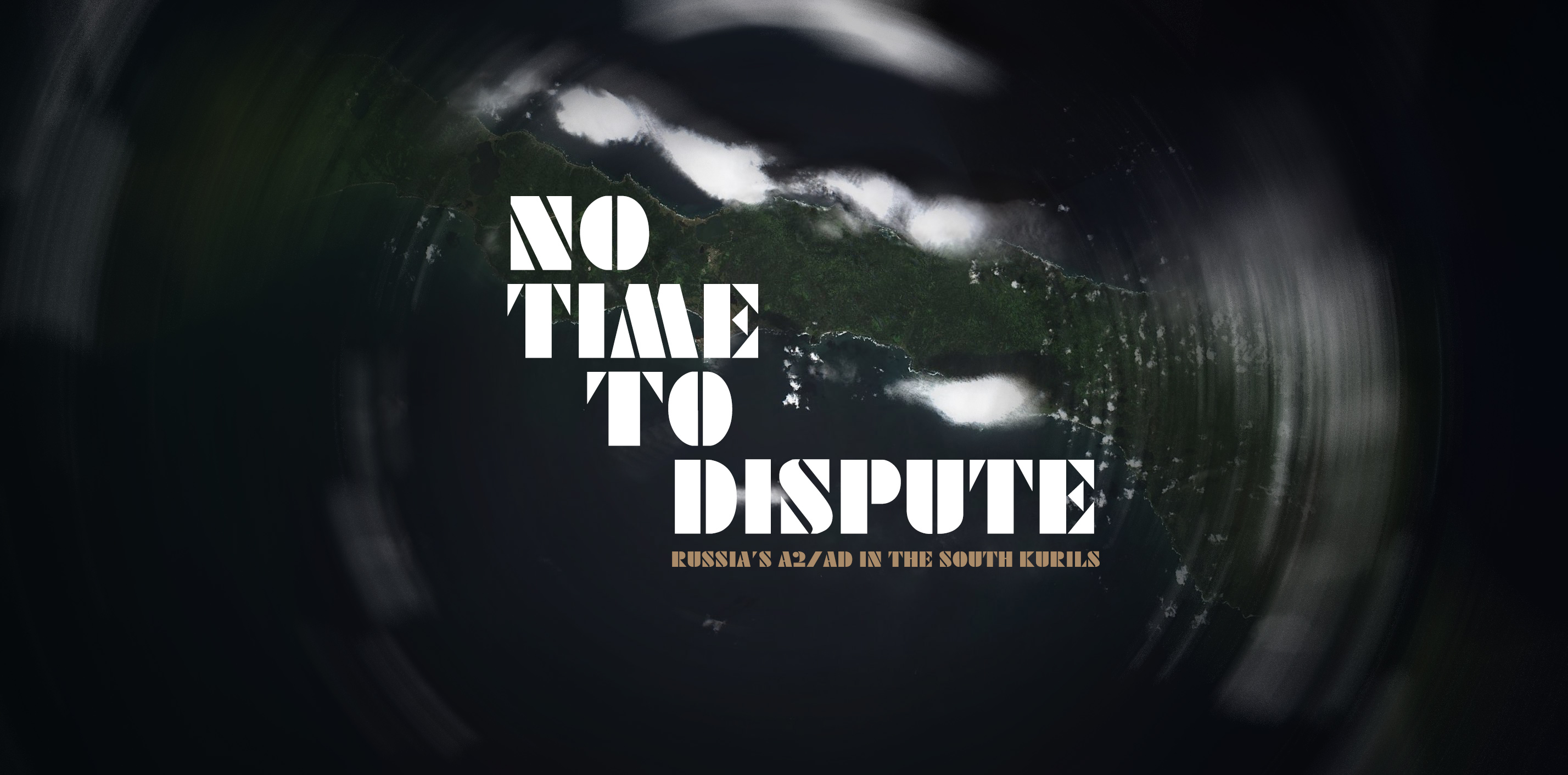 Remote and derelict, riddled with active volcanoes and disputed between Russia and Japan, the South Kurils make the perfect secret lair for any self-respecting evil genius. It's no wonder the writers behind No Time to Die, the latest Bond film, chose the South Kurils as the setting for the film's final act. While not directly named, the South Kurils are clearly referenced by Q's description of Safin's island – "part of a chain disputed between Russia and Japan."
A closer inspection of the Russian military presence in the archipelago suggests [spoilers] that Q's "donut" flight over the island could have ended poorly. Likewise, the Royal Navy's HMS Dragoon would have probably faced immediate retaliation for its missile strike on Safin's bioweapons facility. As for Bond, he didn't just break our hearts, he also broke into Russia's A2/AD bubble.
---
KEY JUDGEMENTS
I. Together with the rest of the archipelago, the southern Kurils form a natural barrier, protecting the Russian Pacific Fleet's naval bastion in the Sea of Okhotsk from threats in the Pacific
II. Russia has significantly enhanced its posture in the South Kurils by deploying advanced air defense systems including the S-300VM4, several Su-35 air superiority aircraft, and coastal missile systems in the past decade. By establishing an anti-access/area denial (A2AD) zone in the South Kurils, Moscow signals to Japan that it will never forfeit its easternmost territory. 
III. Russia's militarization of the South Kurils will continue in the coming years and focus on the archipelago's largest islands. Plans for further investment suggest that the South Kurils will no longer be a semi-dormant military outpost but could "go active" for Russian operations in the West Pacific. 
FLASHPOINT: NORTHERN TERRITORIES OR SOUTH KURILS?
1. Disputed between Russia and Japan, the southern Kurils are the southernmost islands in the chain that separates the Sea of Okhotsk and the Pacific Ocean. More specifically, the southern Kurils consist of Iturup (Etorofu in Japanese), Kunashir (Kunashiri), Shibotan (Shikotan), and the Habomai islets. 
2. Russia exercises de facto control over the islands, but Japan has a historical claim to them. The ongoing Russo-Japanese dispute prevents the two countries from signing a formal peace accord to end World War 2 and foster closer economic ties. The rest of the Kuril island chain is internationally recognized as Russian territory. 
RUSSIA: Russia calls the archipelago the "South Kurils" and administers it as a district (Yuzhno-Kurilsky) in the Sakhalin oblast. Over 7,000 km from Moscow and only 20 km from Japan, the South Kurils district is Russia's easternmost territory. Russian control of the southern Kurils can be traced back to 1945 when the Soviet Union seized the archipelago from Imperial Japan. The Soviets planned to use the islands as a springboard to invade mainland Japan in competition with the US. 
JAPAN: Japan refers to the southern Kurils as "Northern Territories" and considers them part of Hokkaido prefecture. The Japanese settled and administered the southern Kurils centuries ago and have a series of bilateral treaties with Russia that recognizes Japan's sovereignty over the islands. 
3. It is virtually certain that Russia will never concede the southern Kurils to Japan, despite the recent detente in bilateral relations. Moscow fears that conceding even a part of the Kurils could create a dangerous precedent for its territorial disputes in Eastern Europe and the Caucasus. While not at the top of the agenda, Tokyo is unlikely to shelve the southern Kurils dispute without significant concessions, such as free movement of Japanese fishers and/or demilitarization. However, there is a possibility, albeit low, that Russia might concede the Habomai islets and/or Shikotan islands to Japan as promised in an unratified 1956 Soviet-Japanese peace proposal.
SOUTHERN KURILS: BARRIER, GATEWAY, AND MINERAL DEPOSIT
4. BASTION BARRIER: While not strategic by themselves, the southern Kurils are critical components of the greater island chain, which serves as a natural barrier for Russia's naval "bastion" in the Sea of Okhotsk. As a whole, the Kuril reef holds great military value from both defensive and offensive standpoints. 
DEFENSE: The Kurils can be flooded with air defense and coastal defense batteries combined with long-range artillery to keep adversaries at range. Invaders must adopt a costly leapfrogging strategy, contesting each island, if they wish to move surface vessels in the Russian Pacific Fleet's Okhotsk bastion. 
OFFENSE: The USSR seized the South Kurils exclusively for offensive purposes in 1945. While military action against Japan is unlikely today (except retaliatory), the southern Kurils, particularly the Habomai islets, are valuable to monitor the US presence in Japan. 
5. GATEWAY TO PACIFIC: Russian naval movements indicate that the straits towards the southern Kurils are the Pacific Fleet's most used passageways into the West Pacific. Even naval units based in Vladivostok and the Sea of Japan prefer to sail through the Kuril straits, via the Soya strait, over alternate routes (Tshushima and Tsugaru straits). The main reason is that the Kurils offer a more direct route to Alaska and the US mainland. Freedom of movement through the myriad of Kuril  straits is also important to diversify's the fleet's routes to and from the Pacific. Although some of the straits between South Kuril islands are difficult to navigate during winter due to ice formation.
6. RHENIUM: While underdeveloped, the south Kurils have always had some economic value. During the Cold War, it was fishing. Nowadays, rethium is the islands' treasure – a rare earth element crucial for rocketry, aircraft production and the high-tech industry. Rhenium is widespread in the Kuril Islands, especially in the Kudryavyi volcano on Iturup. Given decades of underinvestment and poor infrastructure, Russia has barely tapped the islands' mineral potential. 
GEOINT: RUSSIA'S A2/AD BUBBLE  IN THE SOUTH KURILS
7. Russia established an anti-access/area denial (A2/AD) in the southern Kurils throughout the past decade. The purpose of A2/AD is to deny adversaries freedom of action in a given theater and keep them at range. A combination of multi-layered air defenses and long-range strike platforms is the most common form of A2/AD composition, and the Kurils make no exception. 
AIR DEFENSE: By parrying a long-range S300VM4 with two short range systems (deployed in 2020), the Buk-M1 (d.

2012

) and Tor M2 (d.?)Russia achieves a multi-layered air defense network that can monitor and threaten enemy aircraft. A variety of general surveillance and coastal radars are also likely based in the South Kurils. 

STRIKE PLATFORMS: Russia

amassed

the Bal and Bastion surface-to-surface missile systems (SSMs) to the Kurils in 2016. The Bal system (in Kunashir), and Bastion-P, (in Iturup), are capable of engaging both land and seaborn targets, and can be upgraded to accommodate newer missiles as they become available. 
---
ITURUP/ETORUFU
Measuring 1,210 square miles (sq. m.), Iturup is by far the largest and most militarized island in the southern Kurils. Iturup absorbed the bulk of Russia's military investment in the South Kurils with regard to hardware and infrastructure. Two airfields, a major infantry base, and several training grounds exist on Iturup. In the past decade, they have been modernized and expanded. Harbours and naval facilities have also improved over the years, but there is still no major naval base on Iturup. 
Russian forces have been sluggish in exploiting Iturup's (dramatic) high ground for radar surveillance. There is also no visible progress on overhauling the islands' WW2-era littoral defenses. Iturup's fixed beach fortifications are overwhelmingly derelict. 
Built during WW2, then named "Tennet airfield," Burevestnik is one of the largest airfields in the whole Kuril chain. The airfield hosted over 100 aircraft at the height of the Cold War. In 1965, the airstrip was extended to a length of 2,4 km, according to a declassified CIA assessment.  
In recent history, Burevestnik AB saw a significant all-around modernization. Nowadays, the airfield mainly hosts rotary-wing aircraft. The most notable improvement is the construction of an air defense site [44°55'7.77 "N 147°38'31.61 "E] dedicated to the S-300V4 systems (NATO reporting name: SA-23 Gladiator) that the Russia Eastern Military District deployed to Iturup in December 2020. Geolocation of the S-300's first readiness exercise in Iturup to this location suggests that the air defense site was designed to host advanced hardware like the S-300. 
The air defense site and subsequent warehouse were built sometime between September 2012 and November 2015. Due to lack of open-source satellite imagery coverage before 2012, we could not pinpoint the exact timeframe. 
18th Machine Gun Artillery Division [45° 2'3.68 "N 147°45'19.18 "E]
In the past, the base was a typical case of Soviet-era ghost military base. Still, imagery from August 2019 shows an explosive expansion and modernization of the military camp, especially compared to the previously available imagery from Google Earth from September 2005. The old and decayed buildings in the base's midsection have been demolished and replaced with new, modern facilities. The base expanded eastwards, where a warehouse of interest, among other structures, emerged. A review of Planet's RapidEye satellite imagery suggests that the warehouse was built in the second half of 2016. 
A GEOINT assessment conducted by Israeli company ImageSatIntl in July 2019 named the warehouse as a deployment site for coastal missile defense systems and identified two Rubezh systems (SSC-3) parked on the cement pad nearby. The newly deployed Bal (SSC-6) or Bastion (SSC-5) systems have likely replaced and retired the ageing Rubezh systems.  
3/9: Coastal #Missile Systems Deployment, #Iturup Island: Two #Russian #Rubezh coastal missile systems. pic.twitter.com/z0mKaccJji

— ImageSat Intl. (@ImageSatIntl) July 30, 2019
Anti-ship missile system "Bastion" on the island of Iturup. pic.twitter.com/czDoDuYVgM

— Massimo Frantarelli (@MrPrismakov) March 22, 2020
Iturup Airport [45°15'28.50″N 147°57'16.53″E]:
Built in 2014, Iturup airport (also known as Yasny) is a rare case of an entirely new facility constructed in the South Kurils. Iturup airport is also the first airfield to be built from scratch in post-Soviet Russia. With a 2,4 km airstrip and modern facilities, Iturup Airport is a dual-use airfield serving both civilian and military flights. In August 2018, Russia deployed three Su-35 air superiority (Flanker-E) aircraft to Iturup airfield. 
While the island does not host a military naval base, there are several noteworthy ports or small wharves that small vessels of the Russian Border Security Force (BSF) – Coast Guard or Russian Navy can use. Iturup's coastline contrasts from flat beaches to sharp cliffs. Therefore artificial docking facilities, like wharves, are needed to accommodate vessels. 
Kurilsk Harbor [45°15'24.7 "N 147°52'55.9 "E]- Iturup's largest port has seen significant modernization in the past years, which undoubtedly expanded Kurilisk's military potential. 

LLC Fish processing plant and wharf [45°06'12.2 "N 147°41'53.0 "E]

"Autumn" fishing village [45°00'34.4″N 147°31'11.2″E]
---
KUNASHIR/KUNASHIRI
Kunashir is the second-largest island in the South Kurils (580 square miles). The island hosts a major airport (civilian) and a massive infantry base. Kunashir used to host a large naval Soviet presence in the Cold War, and was the assembly point for the Japanese Imperial surface group that attacked Pearl Harbor, according to a declassified CIA assessment. 
Yuzhno-Kurilsk Mendeleyevo Airport [43°57'42.17 "N 145°41'13.23 "E]
With a 2,2 km airstrip and modest facilities, Mendelyevo has remained relatively unchanged in the past decade. The airport has seen limited modernization of auxiliary facilities but not expansion. Mendelyvo does not have a declared military role; however, if needed, it could support a limited number of fighter aircraft and helicopters for a short amount of time. Aeroflot subsidiary Aurora Airlines is the only commercial airline that flies to Mendelyevo. Aurora's only route to Yuzhno-Kurilsk Mendeleyevo Airport is from Yuzhno-Sakhalinsk, and is mainly serviced by the company's De Havilland Canada Dash 8-400 aircraft.
Seaport Yuzhno-Kurilsk 44°01'19.6 "N 145°51'15.7" E
Although mainly for civilian-commercial use, the Yuzhno-Kurilsk seaport has military significance. The wharf and docking facilities have likely once formed a "major Soviet naval base" as referenced in a declassified CIA report from 1955. While the coordinates provided in the CIA report are "broken," pointing to an offshore location (happens to the best of us), Yuzhno-Kurilsk seaport is the island's only naval facility and it is "near" the local airfield. A direct road links the two sites.
The seaport also hosts a fish processing plant and an offsite fuel storage facility, which are vital to the island's economy and inhabitants. 
46th Machine Gun-Artillery Regiment 44°03'19.3″N 145°47'06.2″E 
This Soviet-era installation bloomed starting in 2010 and nearly doubled after May 2017. New housing facilities, warehouses, and a host of small and medium-sized structures appeared during this timeframe. The constructors have also prepared approximately 120 square meters of parking areas, indicating an increase in troop and supply transportation vehicles.
A large, white hangar also emerged southeast of the parking lot for hosting advanced weapons capabilities (AWC), as the geolocation of the Bal systems in storage photo suggests. The image in question was obtained by a Japanese newspaper, Sankei, from a source on the ground. 
Leveraging the local high ground, two air defense sites exist north of the base. The first site, within the base's limits, was built between 2015 and mid-2018. The layout is identical with the air defense site prepared at Burevestnik air base on Iturup, where the S-300VM4 resides. Google Earth's latest imagery, dated April 2020, shows a probable surface to surface missile (SSM) system – either Bal or Bastion – positioned in the revetments, suggesting that the site is not exclusively for air defense. The second presumed air defense site ("high ground SAM site") predates the recent modernization and has not hosted SAM activity in the past years, based on our review of available satellite imagery. 
A warehouse is also visible to the southeast, with vehicle marks suggesting pre-established routes to the nearby woodland – a possible shoot-and-scoot path. The warehouse and auxiliary areas were built between May 2017 and June 2018. As ImageSat International was the first to assess, the warehouse facility is identical with the one constructed at the 18th Machine Gun Artillery Division. This suggests a similar use, namely hosting advanced weapons capabilities (AWC). 
---
SHIBOTAN/SHIKOTAN
Two noteworthy naval facilities exist on the archipelago's third-largest island. While under civilian authority, Shibotan's ports regularly – or permanently host – Russian Coast Guard vessels. No airfield exists on Shibotan. However, at least one helipad is visible at Malokurilskaya Bay [43°51'59 "N 146°49'39" E], and the island offers a host of adequate landing zones for helicopters. Infantry troops and likely an artillery unit are also based on the island. Declassified CIA reports from the 1950s claim that Shibotan hosted a Soviet frontier naval division, suggesting that this island played a crucial role in Moscow's posture vis-a-vis Japan. 
Malokurilskaya Bay [43°52'29.5″N 146°49'23.5″E]
Geolocation of images posted on Russian forums underscores the Russian Coast Guard's presence at Malokurilskaya Bay. The images suggest that the local Coast Guard unit (likely unit 2264 based on unverified crowdsourced information) is using the bay's northern wharf as "home port" [43°52'25 "N 146°49'19" E].  
Trench line (derelict) [43°51'23″N 146°49'25″E]
Covering the hilly southern approach to Malokurilskaya Bay is a WW2-era trench fortification system accompanied by a slate of abandoned T-34, IS-2, and IS-3 tanks. If needed, the trench line could be revived as a stop-gap defensive measure, if overhauled, and reinforced with modern armored units. 
Krabovaya Bay [43°49'35″N 146°44'55″E]
This smaller port exclusively serves fishing activities, but its new, large wharfs make it adequate for small patrol craft to a certain extent. Large tonnage vessels are unable to reach due to shallow waters. Krabovaya Bay boomed after a private company built a new fish processing and storage plant and expanded the port docking facilities in 2019. 
---
HABOMAI ISLETS
The closest to Japan's Hokkaido province and the smallest landforms in the southern Kuril chain (39 square miles – combined), the Habomai are of little significance to Russia's military posture. The islets' rich waters are sought after by Japanese fishers, and Tokyo still hopes that it can recover the Habomai or establish a joint fishing zone in Habomai's waters. The return of the Habomai (and Shikotan) to Japan was promised in the 1956 Soviet-Japan Joint Declaration, but the two parties failed to ratify the peace agreement. 
Except for two border outposts* and several defunct barracks and derelict fortifications, there are no noteworthy Russian installations or forces on the Habomai islets. Small boats and fast patrol craft of the Coast Guard regularly patrol the Habomai's waters and arrest Japanese fishers. 
*Border post – Zelenoe Yuzhnokurilskiy [43 ° 30'9 "N 146 ° 5'23" E] 
*Border post – Muravyovka [43 ° 25'5 "N 145 ° 54'2" E]
---
OUTLOOK
8. Russia will further its force build-up by expanding the military infrastructure on Iturup and Kunashir, Russian Prime Minister Mishushtin announced in August 2021. Moscow said that it will build "51 more pieces of military infrastructure" in the Kurils, without detailing what kind of infrastructure this will be. We assess that most investments will likely upscale the logistics facilities and amenities of local units. Modern radars, point air defenses, and new naval facilities would greatly improve Russia's local posture and are therefore strong candidates for the Kremlin's upcoming investment plan. 
9. The growing A2/AD bubble in the South Kurils solidifies Russia's grip on the disputed territories. It also dramatically reduces the likelihood of the islands, or parts of them, returning to Japan. Plans for further investment suggest that the South Kurils will no longer be a dormant military outpost but could "go active" and increase the pace of Russian operations in the West Pacific.
---
by HARM
Afterword: this strategic analysis (SA) does not encompass all *possibly* military-related sites and objects on the South Kurils as it prioritzed high value locations and advanced hardware. The SA's purpose is to provide a succinct overview of the archipelago's most noteworthy locations and highlight objects of interest. 
This assessment was made using Open-Source Intelligence (OSINT) techniques and resources. Visit Knowmad OSINT to learn more about our online OSINT training. 
DISCLAIMER: This report is legacy content published before T-Intelligence's relaunch on 4 July 2023. The report has been retained for archival purposes, but the content may not align with current standards.
Founder of T-Intelligence. OSINT analyst & instructor, with experience in defense intelligence (private sector), armed conflicts, and geopolitical flashpoints.