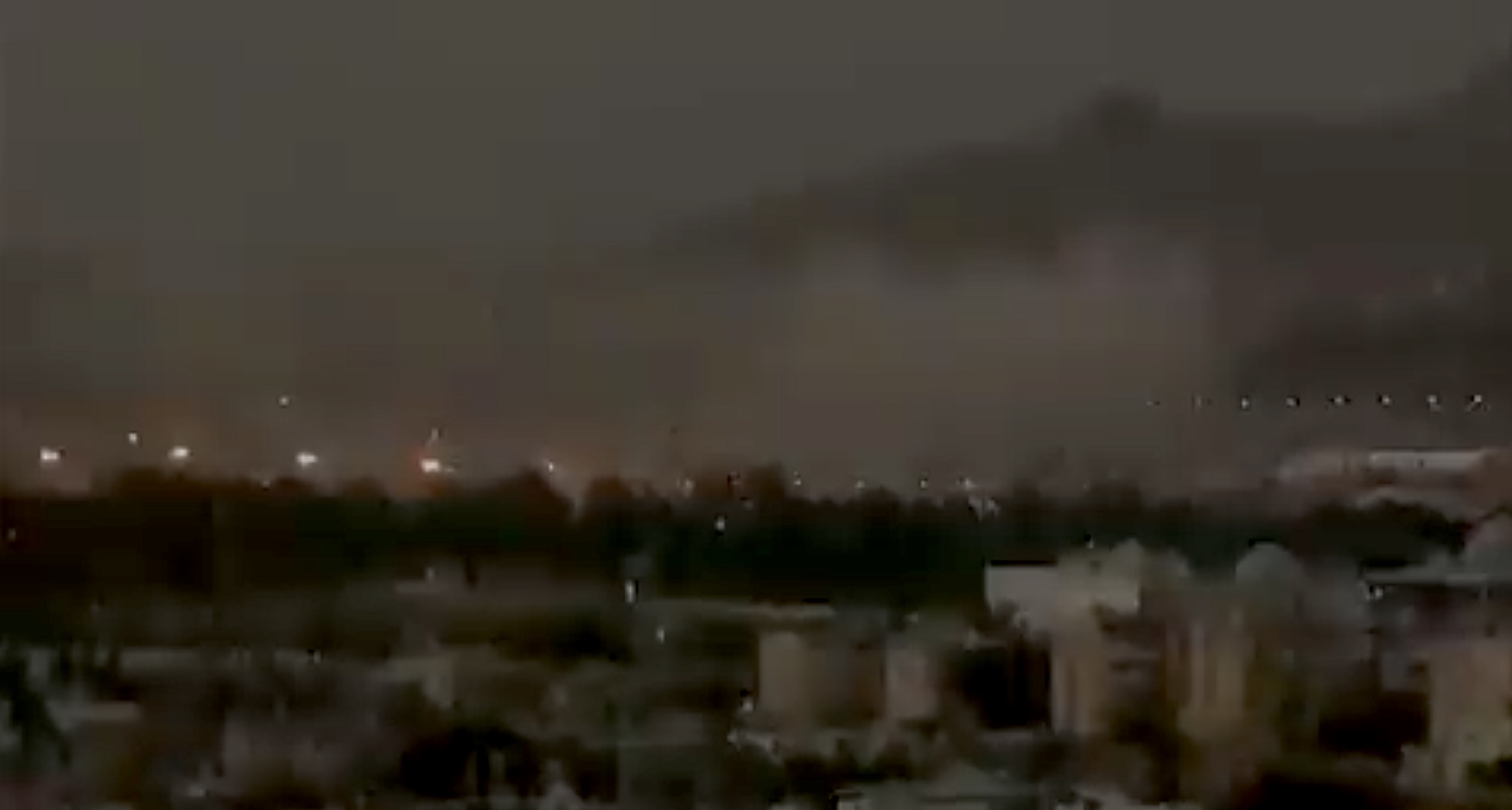 Yesterday's deadly suicide attacks at Kabul airport serve as a grim reminder that "Islamic State-Khorasan province" (IS-K) is still strong, despite the group losing its physical territory in eastern Afghanistan. 
TWIN BOMBINGS NEAR KABUL AIRPORT
Over 70 civilians and at least 12 U.S. service members died in the twin suicide bombing that rocked Abbey gate at Hamid Karzai International Airport in Kabul (KBL) and the nearby Baron hotel on Thursday (26 August 2021). Taliban fighters were reportedly also wounded in the attack. 
The first explosion took place at the "Abbey gate," the airport's southeast entrance, where thousands of Afghans gather daily to be processed for evacuations. Following the blast, a "number" of IS-K gunmen opened fire on civilian and military forces at Abbey gate, according to the U.S. Central Command (CENTCOM). Videos that surfaced online show the grim aftermath of the attack, with dozens of wounded or killed civilians floating in the nearby drainage ditch. 
The second attack took place near Baron hotel, which is just a few meters from Abbey gate. This attack was also conducted through a person-borne improvised explosive device (PBIEV), according to CENTCOM. Baron Hotel served as an evacuee processing center and was therefore frequented by foreign citizens, Afghans seeking extraction, and international military staff, mainly British. 
🇬🇧 Paras securing the perimeter of Baron Hotel in Kabul after the second attack. Notice how many are wearing latex gloves from attending multiple casualties.
Pics by @yamphoto pic.twitter.com/3ogEt1XcTo

— Abraxas Spa (@AbraxasSpa) August 26, 2021
ISIS-K claimed the attack through the group's media wing Amaq Agency and said that one of its fighters detonated a suicide vest only five meters away from U.S. Marines posted at Abbey gate. The group has not claimed responsibility for the second attack near Baron hotel, although there is no doubt that IS-K is behind it too.  
BREAKING: #ISIS has claimed today's bombings at #Kabul_Airport in an 'Amaq report, stating that its fighters killed and wounded approx 160. The report for the attack comes with a picture of the suicide bomber. pic.twitter.com/mBJX4pPsrW

— Rita Katz (@Rita_Katz) August 26, 2021
IS-K: THE EXPECTED (AND IMMINENT) THREAT
On the day of the attack, the United States Department of State warned Americans remaining in Afghanistan to avoid Kabul airport and Americans at the airport to leave the site immediately. The intelligence was solid and indicated an imminent threat. 
#Afghanistan: Due to threats outside the Kabul airport, US citizens should avoid traveling to the airport and avoid airport gates unless you receive instructions to do so. Those at the Abbey Gate, East Gate, or North Gate now should leave immediately. https://t.co/InzuVjXhLT pic.twitter.com/6ncsJBEVLu

— Travel – State Dept (@TravelGov) August 25, 2021
For days, the U.S. intelligence community warned that IS-K is likely to take advantage of the chaos in Kabul and launch mass-casualty attacks on the crowds of Afghans and U.S. soldiers at Hamid Karzai International Airport. The looming IS-K threat was a significant factor for President Biden to decide against extending the evacuations beyond August 31st.
The threat assessment did not come as a surprise for seasoned analysts, given the security vacuum resulting from the Taliban's takeover of Kabul and the chaotic international military withdrawal. Mass-casualty attacks have been ISIS-K signature modus operandi in Afghanistan and Pakistan since the offshoot emerged in 2015-2016. The situation in Kabul presented an opportunity for the group to strike the U.S., rival the Taliban, and regain media attention. 
For IS-K, Thursday's twin bombings are also a message to Afghanistan's new overlords (and the group's old rivals), the Taliban. As the U.S. leaves the country, Afghanistan is up for grabs for all militant jihadi groups that want to establish sanctuaries, attract followers, and expand. 
IS-K IN AFGHANISTAN'S THREAT LANDSCAPE
IS-K has been part of Afghanistan's security landscape for at least six years and was responsible for some of the most gruesome attacks against civilians in South Asia, including a mass casualty attack at a maternity ward in Kabul that killed over 20 doctors, nurses, mothers, and newborn babies in 2020.
Established by disenfranchised Pakistani Taliban, Islamic Movement of Uzbekistan (IMU) militants, and foreign fighters, IS-K seeks to establish an Islamic State in Central Asia (including, but not limited to Afghanistan and Pakistan), which would act as a province of the broader global caliphate once envisioned by IS "central" in Syria and Iraq. 
IS-K built its territorial foothold in the Pakistani Taliban's and IMU's areas of influence. The group never succeeded in capturing urban centers but did secure sanctuaries in several key valleys in the N2KL area (Nangarhar, Nuristan, Kunar, and Laghman provinces) and a few Uzbek villages in Jowjzan province.
Joint US-Afghan operations and a separate Taliban offensive rooted IS-K out of its safe havens in 2019-2020 – read more about that here. The Taliban can be credited with defeating IS-K in southern Nangarhar province following a series of battles described by US CENTCOM commander as a "bloody mess." However, the group retained sleeper cells across the country, including Kabul, Jalalabad, and Herat, periodically conducting terrorist attacks. 
In the past year, IS-K saw an unexpected influx of recruits from the Afghan Taliban. Many Taliban fighters, especially those affiliated with the hardline Haqqani network, condemned the Doha peace process, slamming it as a deviation from Jihad in favor of negotiating with the enemy. 
IS-K's message still resonates with many diehard Taliban that are unhappy with the group's decision to allow the safe evacuation of international forces, their citizens, and Afghan allies out of Kabul. IS-K has been inciting followers and sympathizers to attack the evacuation. 
OUTLOOK
IS-K will continue to be a favorable alternative for jihadists disgruntled with the Taliban's "moderate extremism" showcased to convince the international community that they have changed. IS-K will also continue to attract hardcore militant Salafists with an appetite for violence against the country's Shia and other non-Sunni communities and a wish for the caliphate to spread beyond Afghanistan's border. 
With less than four days left before the evacuation's "z-day," there is no reason to believe that IS-K will cease to attack. IS-K will likely try to mount new attacks against international forces and civilians at the airport, and the Taliban. As a result, international governments will probably pull the plug prematurely on their evac missions, as many countries have already formally announced an end to all airlift operations out of Kabul. 
---
DISCLAIMER: This report is legacy content published before T-Intelligence's relaunch on 4 July 2023. The report has been retained for archival purposes, but the content may not align with current standards.
Latest posts by Incident Response Team
(see all)